Lyssa is having a caption contest – caption the picture she took of a Japanese subway ad and you could win some random goodies from Japan.
I'm a little in shock about how warm it's been. It's nice, but weird, if that makes any sense. Put it this way – my SIL laid down the law to my brother today: No turning on the air conditioning in March or April because hello! this is Minnesota. 🙂
Reading Update
Silenced by Syrah by Michelle Scott. The Nikki Sands mysteries aren't particularly well written, but I keep reading them anyway… Nikki works and lives on a vineyard in the Napa Valley and has a slightly complicated love life.
Stately Pursuits by Katie Fforde. This rather predictable romance was a quick and pleasant read. Broken-hearted Hetty takes care of her uncle's dilapitated country house while her uncle recuperates from an operation. The novel features plenty of cozy British village life. This was one of my alternates for the TBR Challenge.
Out of the Deep I Cry, To Darkness and To Death, and All Mortal Flesh by Julia Spencer-Fleming. The most recent three Reverend Clare Fergusson and Police Chief Russ Van Alstyne novels were as well-written and suspenseful as the first two, and the sexual tension remained thick enough to cut. *fans self* I hope Ms. Spencer-Fleming is writing the next book… *taps toe impatiently*
Knitting Update
The Mata Hari Meilenweits are done! Although I usually love knitting with Meilenweit, I think this was a very old skein (of course, I have no idea when or where I purchased it…). The yarn was thinner than usual for Meilenweit and it was kind of hairy – strange white hairs sticking out of the yarn. Not the most pleasant stuff to work with, but the socks are fine – and very Project Spectrum, no?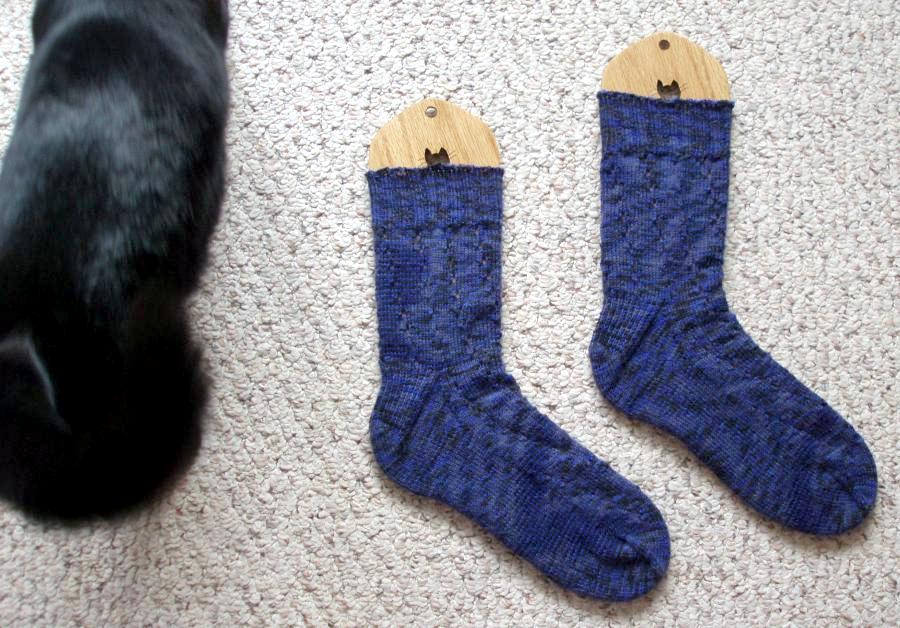 *yawn* "More socks?" -M
I modified the pattern to be slightly less lacy (and therefore warmer). My pattern notes are cryptic, but I did cast on 72 stitches. The pattern row was *yo, k2tog, k7*, moving over one stitch with each pattern row. I think I knit five plain rows between every pattern row. Fortunately, the hairiness doesn't show up in the pictures!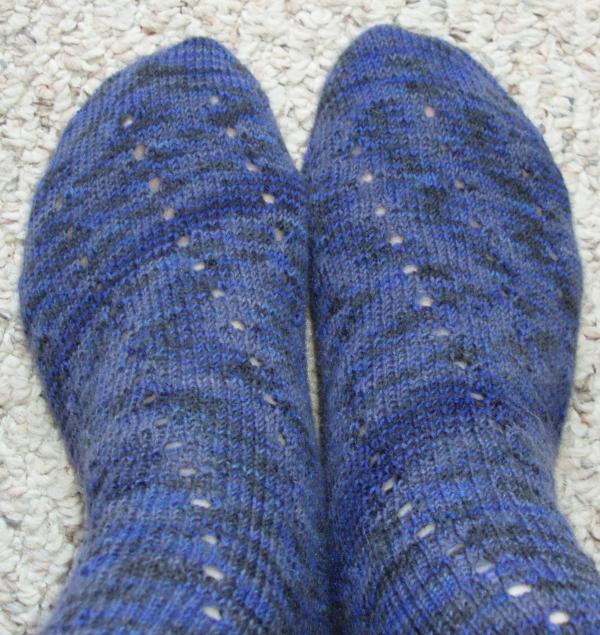 In that first picture, May was on her way to the window to conduct important Mayhem business.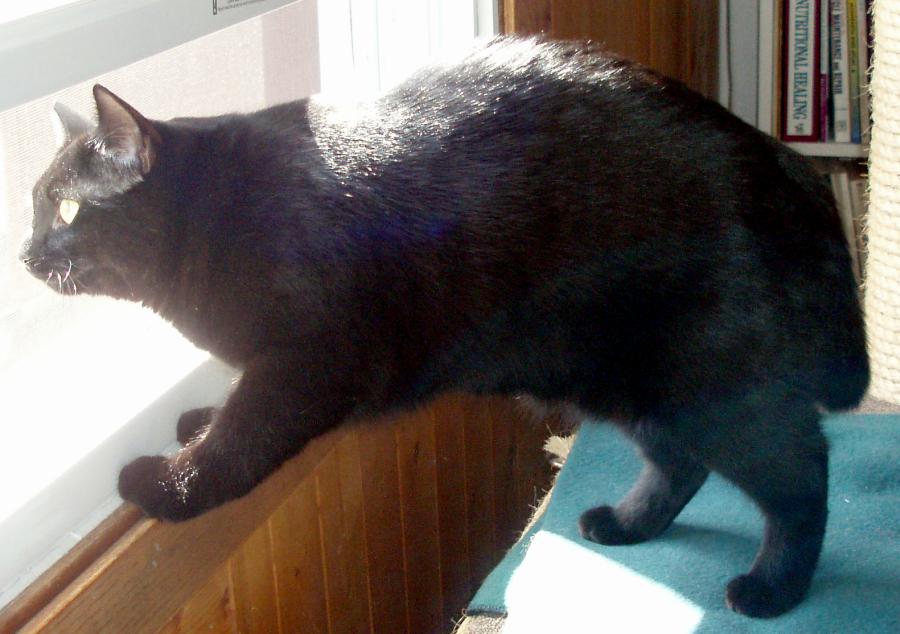 *chitter chitter chitter* "Birds!! Birds!!" -M
"I could've had that one!" -M