Update: Let's try this again – apparently I managed to set this post as Private earlier. Whoops… Sorry! See the next paragraph……..
That quote from Atmosphere's song "Smart Went Crazy" sums up how I still feel after the time change. Why is this so hard?! Actually, until I just looked up the lyrics, I'd always thought it was "I wake up from the dead to the half dead," which I thought was absolutely perfect. Ah well.
Vicki Knitorious is having a contest to celebrate her blogiversary. Guess how many posts and comments she will have when she sits down to post on the first day of spring, and you could win a copy of Cables Untangled. Leave your guess through March 18.
Stephania's giving away the socks she knitted for Sock Madness! If you have size 7 feet (about 8.5 inches long), leave a comment by noon CDT, March 16, and you could have some brand new spiffy socks.
Michelle is having a contest to name the cute sheep figurine she got. If the name you suggest by March 31 is picked, you could win fibery goodies.
Keana is having a blogversary contest! Leave a comment by 5 pm March 16 and you could win some Rowan or some of her own hand dyed sock yarn.
My apologies to the folks subscribed to my atom feed – the plugin that I'm using to keep the contest reminder up at the top of my blog seems to ping Bloglines every few hours, making it look like that post has been edited. Definitely time to ask the plugin creator about that…
Thanks for all the feedback on my RPM socks – I kept going with the STR and am about 2″ into the cuff.
Other than that, I got nothin' today. Brain is a sleepy blank… I think Chaos has the right idea. Do you think my boss would notice if I followed his lead and took a little catnap under my desk?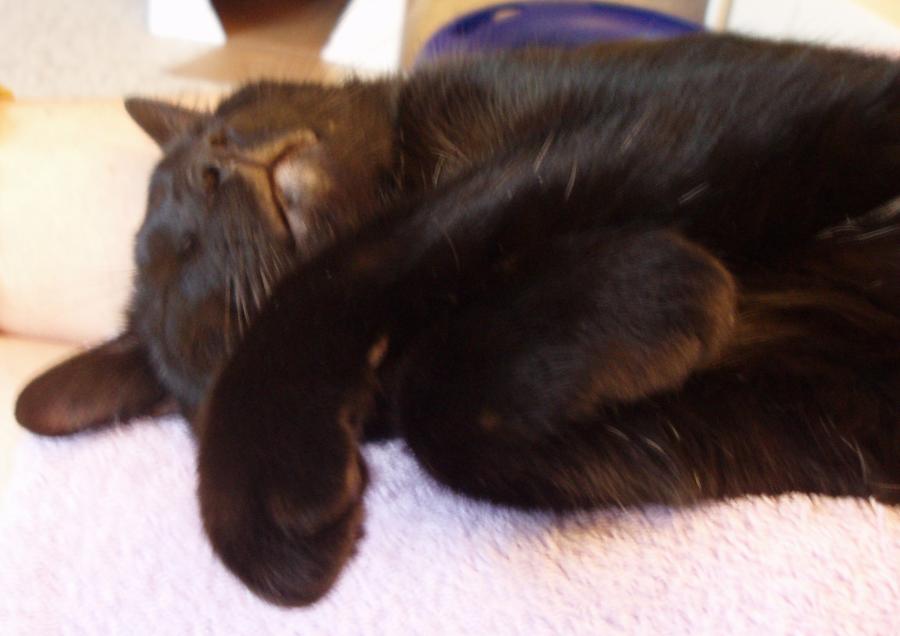 "…zzzzzzzzzzzzzzzzzz…" -C