Teyani is having a contest to celebrate her new blog home! Leave a comment by midnight PST on 3/15 and you could win two skeins of Sock Hop yarn.
KnitNZu is having a contest – her 250th commenter will win two skeins of fingering weight Claudia's Handpainted.
And remember – I'm having a contest! Leave your comments at the contest post by 5 pm CDT, March 19. And if you haven't stopped by and read the comments – what are you waiting for? They're brilliant! I hope everyone is having as much fun leaving comments as I am reading them.
Reading Update
Death of a Butterfly by Margaret Maron. I love the Sigrid Harald books, but they're older and hard to find at my library or used bookstores…
Murder with Peacocks and No Nest for the Wicket by Donna Andrews. More Meg Langslow mysteries! I realized while reading Murder with Peacocks (the very first Meg mystery) how rare it is that I laugh out loud while reading. In Murder with Peacocks, Meg is home for the summer, doing all the grunt work for the three weddings (!!!) in which she is the maid of honor. No Nest for the Wicket (the most recent book) features an eXtreme croquet match…
24 Declassified: Veto Power and 24 Declassified: Cat's Claw by John Whitman. Hee hee – really, not a lot to say about these. I guess they're a guilty little not-so-secret pleasure. 😉
Knitting Update
I finally knit my little blanket for HollYarns and Cyrano's Creature Comforts Drive over the weekend. (You have plenty of time – the deadline is June 2.) I've been meaning to and meaning to… and then I realized that my yarn was perfect for the current Project Spectrum color theme. Yup. That was all it took to get me knitting… Anyway! This is about 24″x24″ – I cast on 65 or 66 stitches of doubled Encore worsted on a US13 needle and knit until I had a square. This fortunately coincided pretty closely with running out of yarn. 🙂
*streeeeeeeeeetch* -M
I wish I'd taken the following picture at a higher resolution, so that you could see how long May's little kitty eyelashes are. Awwww….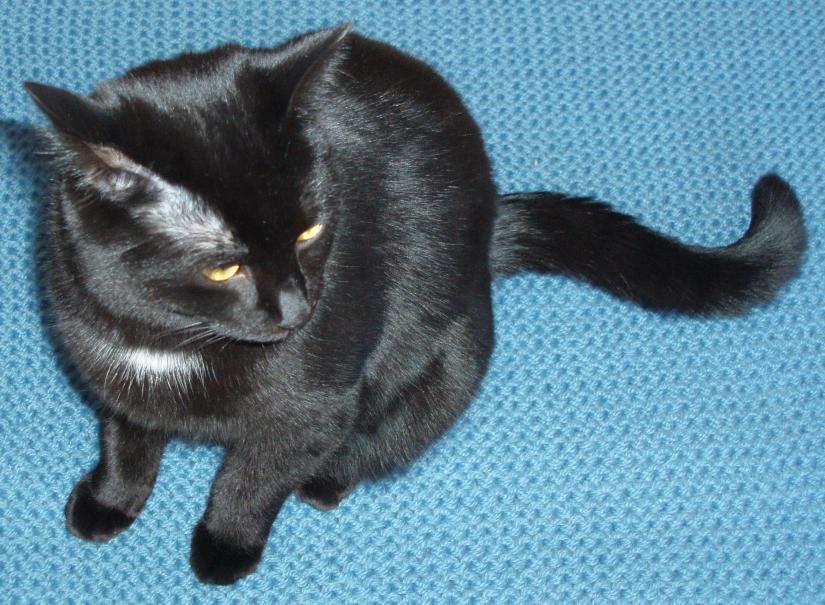 "What?! This isn't staying here for moi?! Hmph. How can everything always be mine if this isn't?" -M