Don't forget to leave a comment on the contest post before 7 pm CDT, August 6, for your chance to win a copy of Diana Holquist's How to Tame a Modern Rogue!
Carolyn of the Thrillionth Page (who lives on the same street as I do – how cool is that?) is giving away a copy of Silent in the Sanctuary or Silent in the Grave (both are historical novels by Deanna Raybourn). Leave a comment before August 4 for your chance to win.
Lea's having daily giveaways through August 6 to celebrate the release of Devyn Quinn's new novel Possession at the end of August You could win an ARC (advance reading copy) of Possession or a copy of Men in Blue, so head over and get in on the fun!
Knitnana's having a contest to celebrate five years of her Nana Sadie Rose business, as well as 750 bags completed during those five years. Leave a comment on her contest post by midnight EDT, August 10, for your chance to win a goodie bag.
---
Dear Readers, I fear there will be many more bullet posts in our future.
Well, I have big project going on at work this month.
A project originally planned to finish in October or November.
A project I did not start coding on until Monday, July 27, after the Board of Directors told our CEO that it was our number one priority.
A project that must now be coded, tested, and deployed by September 1.
Last week, my brain was exhausted by the time I got home from work each day, incapable of additional complex thought.
So, yeah, more bullet posts, which are such a tidy way to do stream-of-consciousness, don't you think?
Speaking of stream-of-consciousness, I have to admit that I've taken more pictures with my cell phone than with my Olympus 1010 during the past week or two.
That crappy two megapixel camera inadvertently creates interesting effects, especially after I turn the pictures black and white.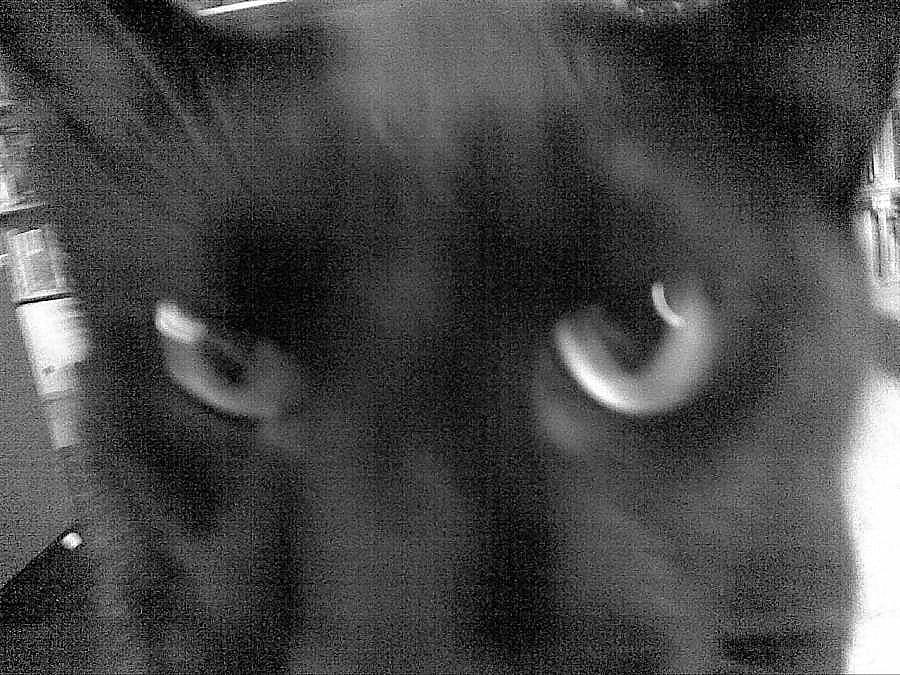 "I don't like the sound of this work project, Mom. If it's going to keep you away from home, I do not authorize you to work on it." -Chaos
Funny you should mention that, Chaos, as I'm going to talk to my boss about working more from home for the duration of this project. That way, I can go for a walk or bike ride over lunch, which really refreshes me (and has already led to some project breakthroughs), plus I'm more willing to work later if I've already exercised and am sitting on my comfortable love seat. We'll see how that goes. 🙂