Aija is having a contest to celebrate her Space Invaders-themed socks appearing in the new knitty! Contribute a few lines to the Choka and you could win some really great stuff from etsy!
KnitWit Kelly is having a contest to help her find her knitting inspiration again – leave a comment by March 13 telling her why you knit, and you could win some yarn, music, and a bracelet!
Recently, I picked up some new Meilenweit Meeting because I thought it looked like a nice Project Spectrum color combination. Unfortunately, after I started knitting it, I realized I hated the colors. The blues slightly clash and there's not enough grey or black to balance that (for me, at least). So I ripped out this fledgling sock Wednesday evening. (Hopefully none of you got too attached to it.)
"I can see an Addi!" -M
I turned to my stash and discovered some Meilenweit Fun that had plenty of blue and grey to qualify for Project Spectrum. I'm using Craftaholic's Mata Hari socks pattern (not the charted pattern in that link – it's explained in text a bit further down). I took these pictures right before ripping the sock back so I could knit another plain row or two between the lace rows so the socks will be a bit warmer and, well, less lacy.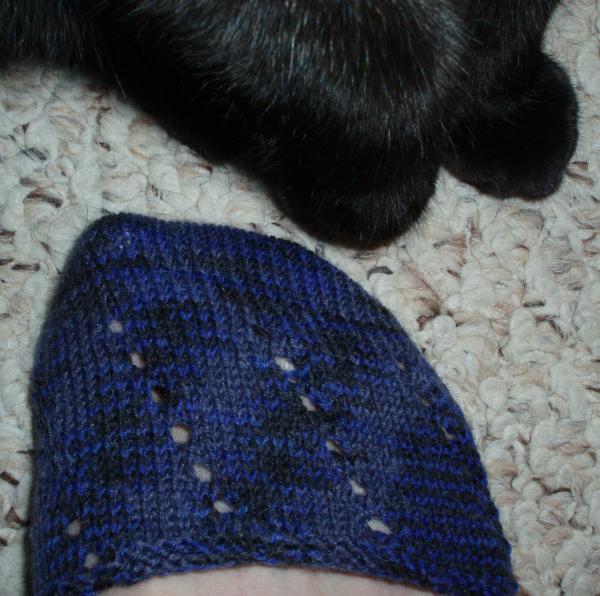 "Maybe if I am very, very sneaky…" -M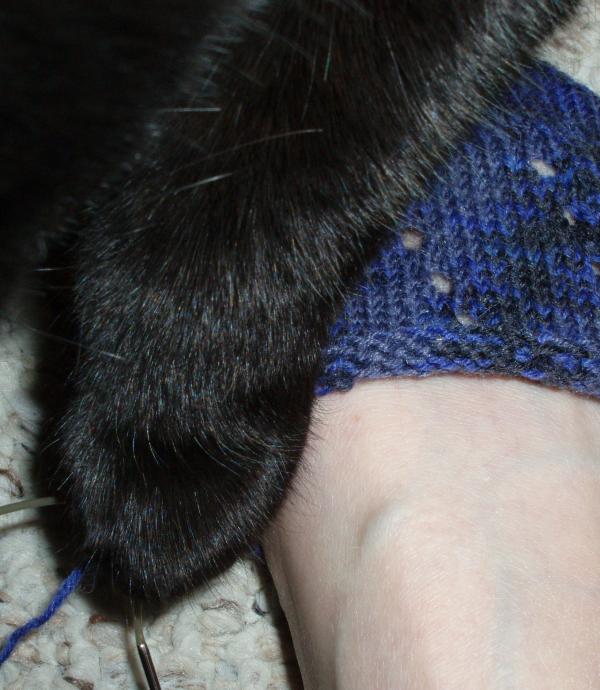 "See how sneaky I am? Look out, Addi – you are mine!" -M