The online knitting magazine For the Love of Yarn is having a contest – leave a short comment about who taught you to knit and you could win a Yarn Safaris sock knitting kit.
Have you checked out Good Yarn Karma yet? It's an intriguing idea to move along some yarn or fiber that just isn't working for you and perhaps find new inspiration in someone else's unloved yarn or fiber.
Vicki Knitorious is going to be in the Twin Cities this weekend! If you're in the area and you're interested in getting together with Vicki, Deb, Jeanne, and I to knit and chat Sunday afternoon, please let me know.
Update: We'll be meeting at D'Amico & Sons at 2210 Hennepin Avenue South at about 4 pm on Sunday, February 25. We should be easy to spot – I look exactly like my little icon in my sidebar (although the cats won't be with me!).
Update the Second 2/24/07: CANCELED! Vicki had car trouble, plus the weather is crappy. She will reschedule. We will not be meeting at D'Amico on Sunday.
Thank you all so much for your supportive comments yesterday! I don't have much to say today other than TGIF – it's one of those sleepy mornings and I'm already thinking I need a second soy mocha. 🙂 Hopefully by Monday I'll have an FO or two to show you – I have less than an inch left on the second Project Spectrum sock and maybe 20 rounds left until I finish the neck of the refined raglan.
Here's a picture of Chaos and May checking out the snow a few weeks ago. Suddenly it's much warmer here (+50°F on Wednesday) and most of the snow in this picture is gone – although it sounds like we could get more snow later today and over the weekend.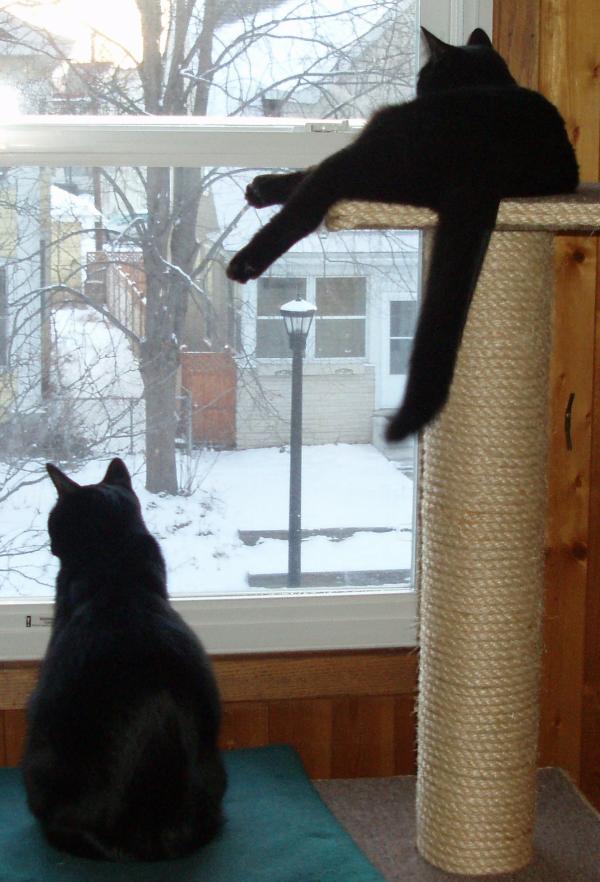 "I know you think that white stuff looks like birds falling out of the sky, May, but trust me, it isn't." -C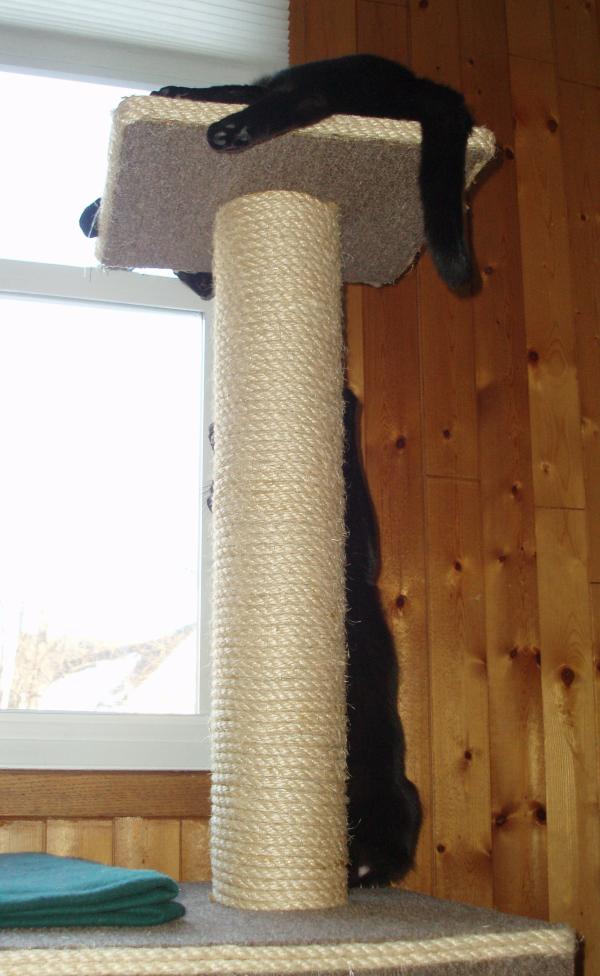 "You've got to come down sometime, May – and then look out! Bwah-ha-ha!" -C