Several years ago, I wrote a pattern for a felted bookweight. When Limedragon declared this week the week of the book and started reviewing some book gadgets (including bookweights), I decided this would be a fun project to share.
Felted Bookweight
A bookweight is used to hold open recalcitrant books that refuse to stay at the page you want. I use my bookweight a lot on cookbooks and knitting books. This project is good for using up scraps of feltable wool. It also makes a quick, unique, and useful gift. If you want to learn how to use double-pointed needles, making a bookweight is like making a sock that has no heel or toe, or a mitten with no thumb. (The bookweight is the brightly colored blob to the right in the photo below.)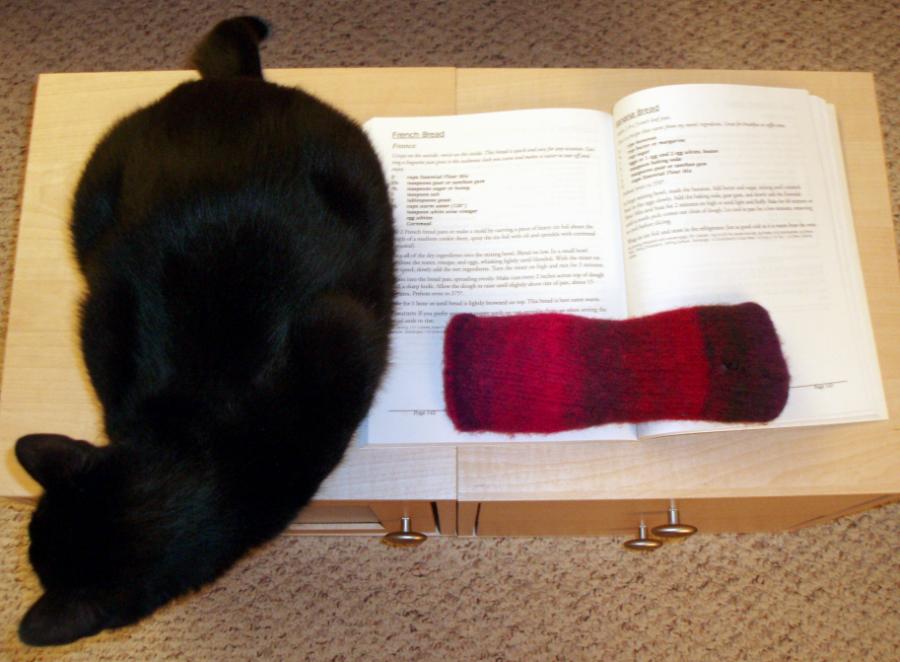 Gauge: Doesn't matter, but your knitting should be loose.
Needles: A set of four DPNS or a very short circular (such as a plastic Clover 8″). 10.5s or 11s should work well for most worsted weight yarns.
Yarn: Feltable worsted weight yarn. Superwash wool and most white or cream non-superwash wools do not felt well. I used Noro Kureyon.
Cast on 31 st for a wide bookweight.
Knit first and last stitches together to join the round (30 st remain).
Distribute stitches evenly across three needles if using DPNs.
Knit circularly until piece measures 9-12″ (remember, it well felt more in length than width).
Bind off and weave in ends.
Run an old sock or part of an old t-shirt through the middle of the tube to keep it from felting shut.
Place the tube into a zippered pillowcase and zip shut. The pillowcase will protect your washer's drain and motor from the felting wool.
Toss the pillowcase into the washer with a bit of detergent and an old pair of jeans, tennies, or a tennis ball. These items add friction and help the felting process. Extremely hot water will also help the felting process.
As the tube is felting, regularly check on it and reshape as needed.
When the tube is sufficiently felted, block and let dry.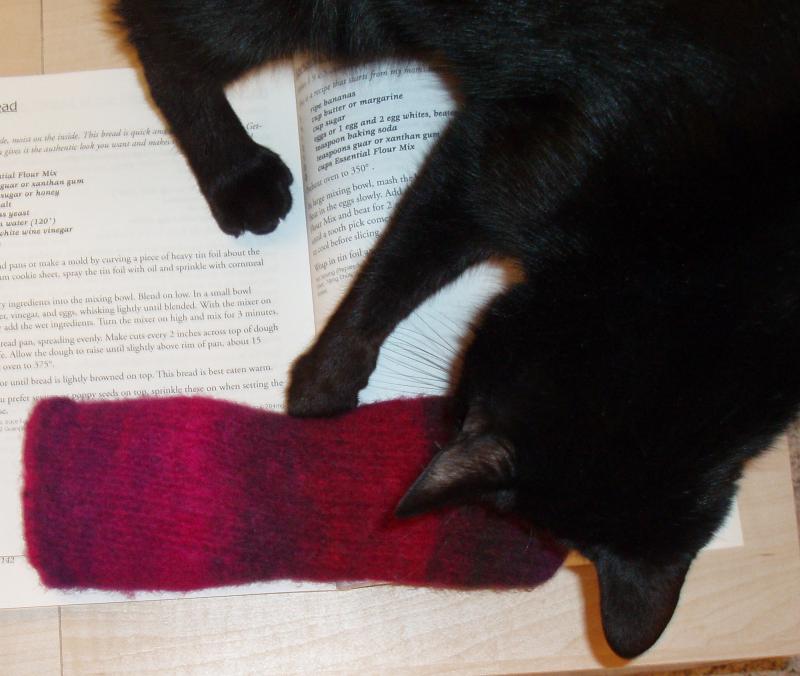 "If it doesn't turn out quite the way you want it, you can stuff it with catnip – makes a great cat toy!" -C
Pin one end of the bookweight and sew it shut tightly with yarn or embroidery floss. Run the ends of the yarn several inches down the inside of the tube, trying to catch some of the fabric without piercing it. After several inches, push needle and yarn to the outside of the tube. Cut the yarn close and tug slightly on the tube so the ends go back inside.
Fill the tube with small pebbles that have few sharp edges. I used "river pebbles" from a local garden store. Sew the open end shut as described above.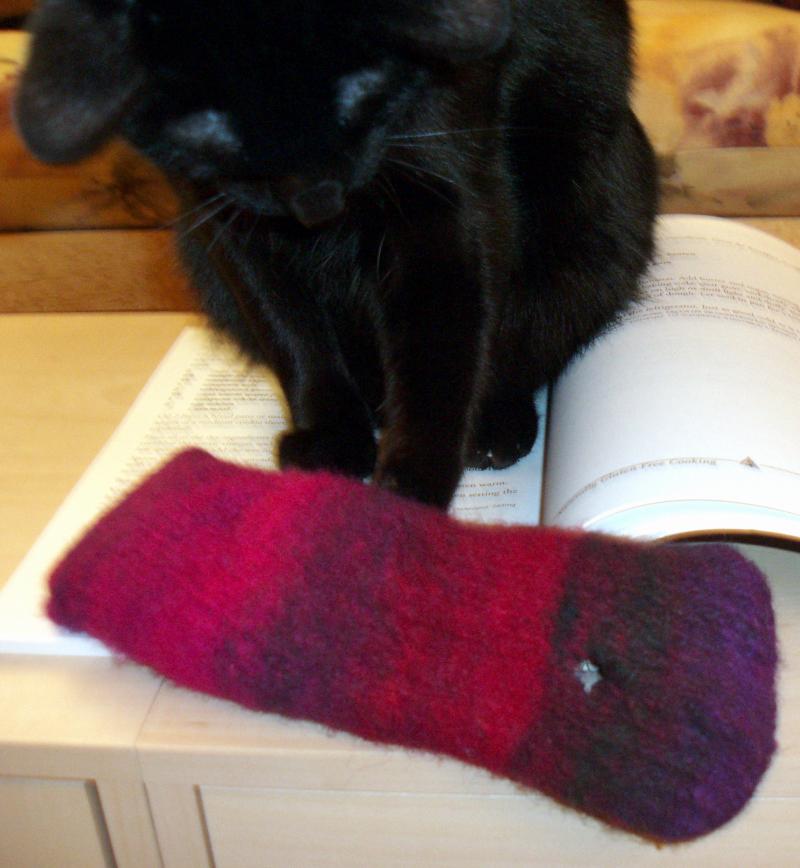 "Don't mind that hole. I couldn't resist – I had to see what was inside this thing. Besides, don't you think I make a better bookweight?" -C
© 2002 by Chris. This pattern may be freely used in a non-commercial fashion. It may not be used as part of a commercial transaction, including as a "free" in-store giveaway, without my prior written permission.