Update: I'm  upgrading WordPress today – please ignore any format oddities! Thanks. -Chris, 1/29/07 13:55
Christine of Pointy Sticks is having a podcast anniversary (podiversary?!) contest. She's interested in comments or blog posts about socks (before midnight, February 6) – additional details are available in her most recent podcast. Prizes include a Lyra mp3 player!
Lisa is having a contest – you can submit guesses on an assortment of things, such as how many miles of yarn in her stash, and win an assortment of prizes! Contest ends midnight, February 9.
Reading Update
The Chemistry of Joy: A three-step program for overcoming depression through Western science and Eastern wisdom by Henry Emmons, MD, and Rachel Kranz. This was my final book for the From the Stacks Winter Reading Challenge. Whew! I initally picked up this book because I know Henry and appreciate his belief that, while medication is important for treating depression, it should often only be one aspect of treatment. Changes to diet, exercise, and meditative practices can help as much or even more than traditional medicine. If you struggle with depression, I highly recommend this insightful and thoughtful book.
Cheaper than Therapy: Joy, healing, and life lessons in fiber edited by Annie Modesitt. This was my first book for the 2007 To Be Read Challenge. I think that the short essays and poems in this book went perfectly with The Chemistry of Joy!
Here's my list of books for the 2007 To Be Read Challenge – all of them have been in my "to be read" piles for at least six months; some for much longer. (While I was sorting through my books to make these lists, I realized that there were numerous books in my "to be read" piles that I wasn't interested in anymore, so they will be heading to the thrift store.)
2007 To Be Read Challenge Booklist
Cheaper than Therapy: Joy, healing, and life lessons in fiber edited by Annie Modesitt; completed 1/28/07
Vanishing Acts by Jodi Picoult
Thinks… by David Lodge
If the Buddha Got Stuck: A handbook for change on a spiritual path by Charlotte Kasl, PhD
The House of Sleep by Jonathan Cole
Kafka on the Shore by Haruki Murakami
A Conspiracy of Tall Men by Noah Hawley
Take the Cannoli: Stories from the New World by Sarah Vowell
Digital Photography for Dummies by Julie Adair King
The Opinionated Knitter: Elizabeth Zimmermann newsletters 1958-1968
Hard-Boiled Wonderland and the End of the World by Haruki Murakami
Middlesex by Jeffrey Eugenides
Alternates/Additional
Blue Shoe by Anne Lamott
Three Junes by Julia Glass
The True and Outstanding Adventures of the Hunt Sisters by Elisabeth Robinson
Stately Pursuits by Katie Fforde
Heartlight by Marion Zimmer Bradley
My Dream of You by Nuala O'Faolain
Blackwood Farm by Anne Rice
Bone Dance by Emma Bull
Freedom and Necessity by Steven Brust and Emma Bull
Kmkat is curious about what we have as our desktop wallpaper. I have an image of Rurouni Kenshin, the anime character that I named my laptop after.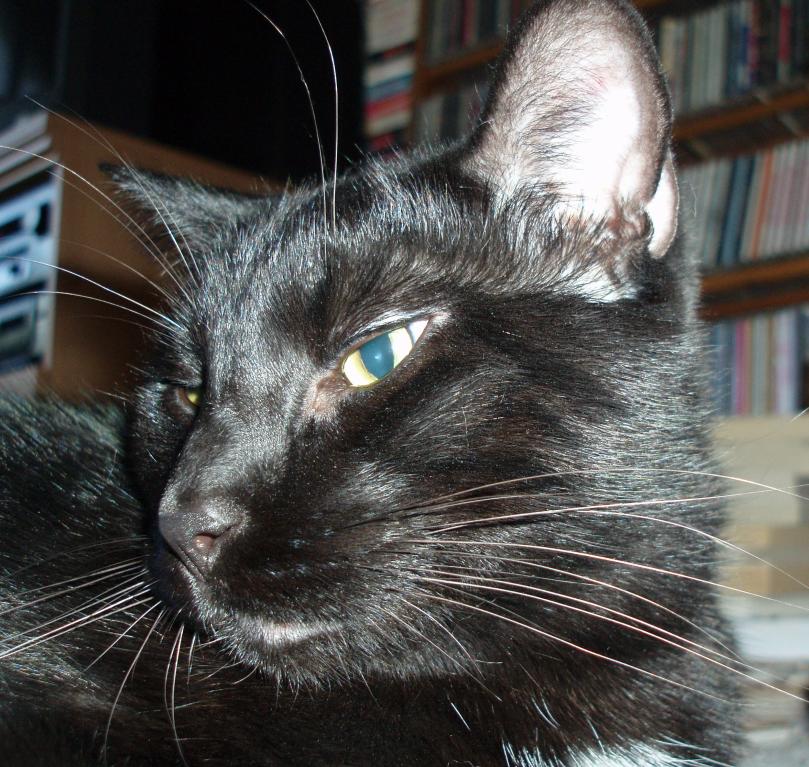 "I don't know why she doesn't have a picture of me for her wallpaper!" -C
"Hmph." -C