Vicki Knitorious has written a nice post about knitblogging that I highly recommend.
Trek is having a funny fiber fiction contest for those who usually purchase from Amazon.co.uk – you could win a £5 gift certificate!
Strangelittlemama is having a contest – let her know what your favorite FO from 2006 was and you could win a fun gift!
If you're looking for some different Christmas music on Christmas Eve and you live in the Twin Cities or have good internet access, you can listen to several hours of various programming from Minnesota Public Radio's station The Current. The music gets going at 5 pm CST on Sunday with an hour of local Minnesota holiday music. Then Aimee Mann shares some of her favorite Christmas music from 6-7 pm. Next is the Sound Opinions' Christmas Special from 7-8 pm, American Routes' Christmas in New Orleans from 8-10 pm, and Peter Otroushko's Heartland Holiday Concert at 10 pm. I'll definitely be listening!
So, I'm pretty sure you all have a mental picture of Minnesota, and it might involve a cold, snowy, wasteland (perhaps year round). 😉 Well, until yesterday, we'd had only a bit of snow this winter (Mayhem chittered at it, thinking it was quite the flock of falling birds) that didn't stick around because it's been so warm. Yesterday, it started to rain in the morning. That turned to freezing rain around noon, and by 12:30 pm, we had heavy snow for a while. Here's what we could see from the window at work at around 1:30 pm (the close blobs are frozen raindrops on the window – the farther blobs are cars on the freeway, crawling along):
Here's what things looked like from the window at home a few hours later, after a drive home on sidestreets (and a stop at Home Depot for some tubes of sand for ye olde rear wheel drive car):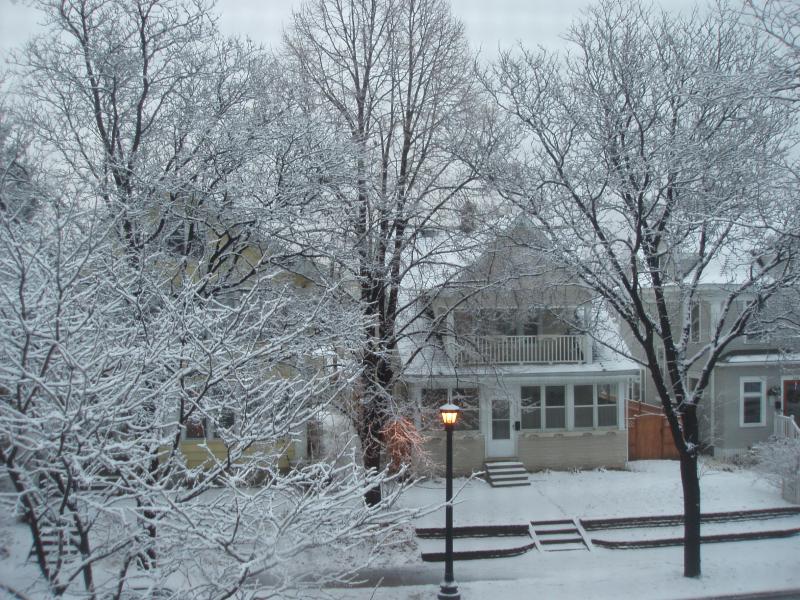 Winter wonderland, no doubt! Except that's only about an inch or so of snow, which probably won't survive the weekend.
"Neener, neener, neener – I'm warm and cozy inside and life is good! And for any flying mice that break into the condo – look out, because you are toast!" -M
Happy holidays to all of you from all of us here at Casa de Chaos (and Mayhem!).