Picture me wringing my hands in the finest White Rabbit fashion! But before I start the thank yous, here are a few contests and a giveaway of interest:
For your chance to win a skein of Lucky Lucy sock yarn, leave a comment at Wendy Knits by 4 pm EDT, April 30.
If you're a Bob Dylan fan, head on over to Largehearted Boy for your chance to win a pretty amazing Bob Dylan prize pack. Make sure you leave your comment before midnight CDT, May 1.
Win the first six audiobooks of James Patterson's Women's Murder Club series from Hatchette Books at J. Kaye's Book Blog. (Please note that winners will not be notified by email – you will need to check back at the blog on May 30 to see if you've won.)
Barnes & Noble is giving away The Adventures of Tom Sawyer in mp3, plus eight mp3 short stories from authors such as Alice Munro, Elizabeth Berg, and Kurt Vonnegut. You do have to install their download software. This giveaway ends 2:59 am EDT, May 16.
---
Working back from the present… I won a contest over at the Knitting Doctor for
leaving a comment that made the Knitting Doctor laugh out loud
. My prize was a gorgeous skein of STR Raven in the Lenore colorway. Thank you!
"It doesn't smell like a bird. I think you got ripped off, Mom." -Mayhem
Ahem. Brigitte sent me some lovely goodies, including a gorgeous skein of sock yarn, some of her precious three-ply Hebridean yarn (it's purple, Marina, so back off! 😉 ), skin care goodies (Brigitte and I both have very sensitive skin), kitty toys, a Toronto t-shirt, breath spray that claims I'll instantly feel Canadian when I use it, and a very handy book…
"My goodness, what are these? They are much, much larger than my furry mice toys. Maybe they are elephants." -Mayhem
"Mmmm… olive oil stuff." -Chaos
…The Action Heroine's Handbook! Click to embiggen and discover some of the useful skills this book teaches. Thanks, Brigitte!
I sent Maeve some bibs and baby music and she sent me a lovely card and book as a thank you. Hmm. I wonder why she thought I might like this book? 😉 Thank you, Maeve!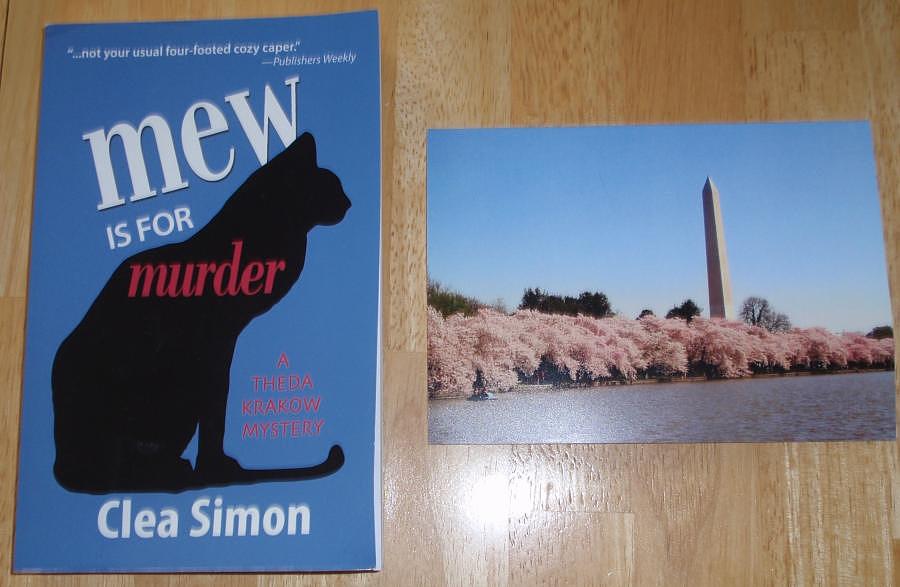 MamaTulip and MrsPao sent packages that arrived on the same day! From MamaT (on the left), a book that came highly recommended, a funny card, and book and coffee journals. From MrsPao (on the right), and assortment of tasty treats, a funny postcard, a lovely journal, a mystery, and kitty toys. Thanks to both of you!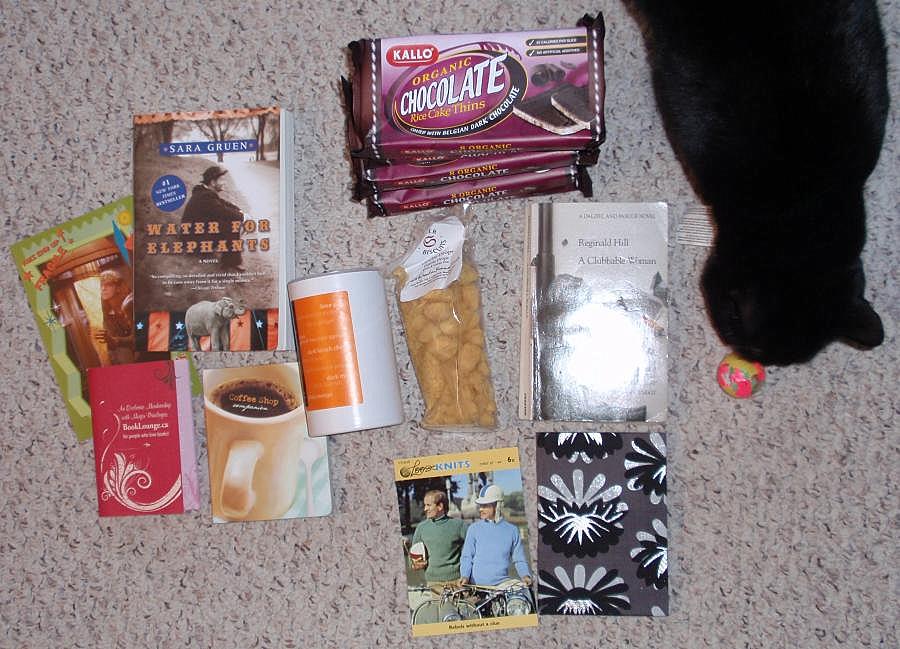 *sniff sniff sniff* -Mayhem
Can't really see the kitty toys?
"Sheepy mouse?!" -Mayhem
That colorful ping pong ball has become a particular favorite of Chaos'. MrsPao also sent another box (we've been sending each other treats that can't be found in our home countries) with more tasty treats, a book, and a lovely card. Thanks again!
"Is this entire stack the same thing? Sheesh, Mom, you must really like these weird flat crunchy things. Are they made from nip or something?" -Mayhem
"Don't mind me – I'm just here to obstruct the picture." -Chaos