As I mentioned yesterday, Karrie's asked those of us who didn't go to Rhinebeck to pull some fun things out of our stash (that we might not even remember purchasing) and pretend we've come back from Rhinebeck with them as wonderful new purchases. This is budget fiber festival at its very best! Because you know, I have plenty of yarn in my stash that I don't even remember that I have. Let's take a look at a few things, shall we?
Of course, any fiber draws a few felines around here…
*sniff sniff sniff sniff sniff*
I did manage a slightly less obstructed picture below. From the left, a skein of nettle yarn. Yup. Nettle. I picked that up at the At Home Store in Fairfield, Iowa, when I was there for an Anna Zilboorg workshop. I think I was planning to make some sort of bath scrubby from it, but unless this stuff gets a lot softer after washing, it would completely strip off your skin – and not in a good way.
Next is a ball of Brooks Farm Duet (mohair/wool) from the Taos Wool Festival a few years ago. It might become Clapotis at some point. Below the Duet is a small skein of La Lana Phat Silk Phat (wool/silk) picked up in Taos. This might become a very narrow little dressy scarf.
In the center, Regia Bamboo, which I picked up maybe a month ago – I'm fascinated by the idea of bamboo socks, but I'll probably wait to knit this until spring, since right now I'm just interested in knitting warm woolly socks. Above that, May inspects a ball of Opal Zebra – I forgot I had this, but I'm very curious about what it will look like, so maybe I'll knit it soon (of course, "soon" is subjective…).
Underneath May is a skein of laceweight silk from Blackberry Hills, purchased at Yarnover a few years ago – someday, someday, it will become a shawl (no, not Adamas :p ). Below that, three small skeins of Rovings Polwarth and silk – also from Yarnover. This would make toasty warm socks. (Hmm, I'm detecting a theme of silk here…)
"Are zebras tasty, Mom?"
Another picture of May from mid-September. She's definitely sleeker now! She's also has more silver-tipped fur on her legs and sides – I think she's going to be a different sort of stealth tabby than is Chaos.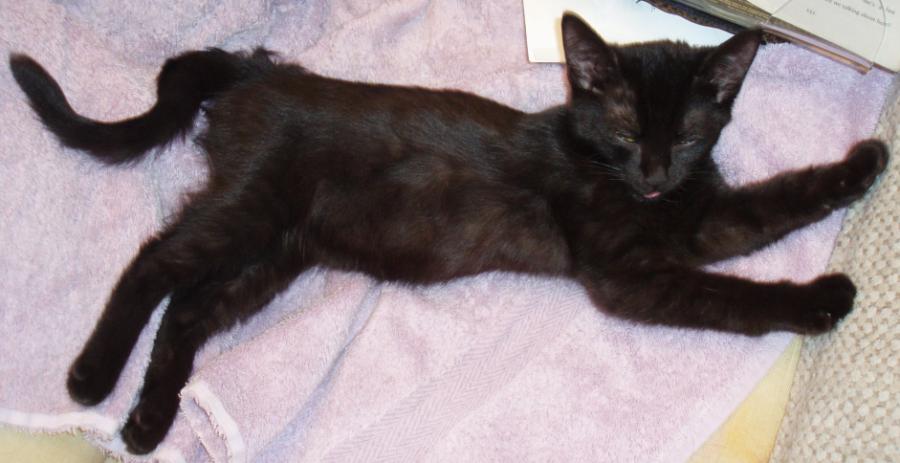 "I feel pretty! Oh, so pretty! And so rumpled! Oh, so rumpled!"