Pace yourselves, people – no linkity next week because I'll be at another book binding class during my linkity making time.
Bookity
Do, Learn, Think, Make
Cookity
Gluten Free
Artsy Crafty
Cool
Cool or Wha…?
Wha…?
LOL
Teh Cute
Reading Update

The Water Room (Bryant & May #2) by Christopher Fowler. Solid addition to this series about a pair of 80-something detectives in London's Peculiar Crimes Unit. Again, not necessarily a fast-paced read, but very engaging.

Seventy-Seven Clocks (Bryant & May #3) by Christopher Fowler. This one's about a Bryant and May case from the early 1970s. If anyone guesses whodunnit on this one, I will be beyond surprised!

Child of Fire (Twenty Palaces #1) by Harry Connolly. Dark urban fantasy about a guy, freshly out of prison, who's working for a powerful spellcaster as she tries to find the source of a magic that's killing kids in a small Oregon town.

Game of Cages (Twenty Palaces #2) by Harry Connolly. Good continuation of this series in which Ray starts out assisting an investigator for Twenty Palaces who's trying to get information about a predator being auctioned off. Things fall apart really fast…

Circle of Enemies (Twenty Palaces #3) by Harry Connolly. I didn't realize this paranormal/urban fantasy series wasn't continued past this book. D'oh. The ending does leave things in an ok place, I guess. But still. Hmph.

What We Found in the Sofa and How It Changed the World by Henry Clark. Cute ya scifi book about three friends who discover a mysterious sofa sitting near their school bus stop and then their lives get really, really weird.

The Book That Proves That Time Travel Happens by Henry Clark. Good ya tale about two middle-school boys helping a girl who works at the circus find a mysterious item – and then things get weird. Fun read, with unexpected social commentary.

The Last Dragonslayer (The Chronicles of Kazam #1) by Jasper Fforde. Delightful ya tale of an indentured foundling trying to keep a magical talent agency running in a world rapidly losing its magic.

Salsa Nocturna: Stories by Daniel Jose Older. Very good collection of interconnected stories about a half-dead guy who works for the NYC Council of the Dead, solving problems when the living and the dead intersect. Apparently, if you're planning to read Half-Resurrection Blues, it's helpful to read this collection first.

Personal Geographies: Explorations in Mixed-Media Map Making by Jill K. Berry. Highly recommended if you're intrigued by the idea of making creative, artistic maps of yourself, where you live, where you travel, and where you dream.

Unf*ck Your Habitat: You're Better Than Your Mess by Rachel Hoffman. Very good take on cleaning and organization – much more realistic than some! 🙂 I liked the focus on preventing those exhausting marathon cleaning sessions, which I am prone to. Plus the author actually acknowledges that if you have a chronic illness (be it of body or brain), you're probably going to need to modify things a bit. As you might surmise from the title, if you can't handle a lot of cussing, this isn't the book for you.
---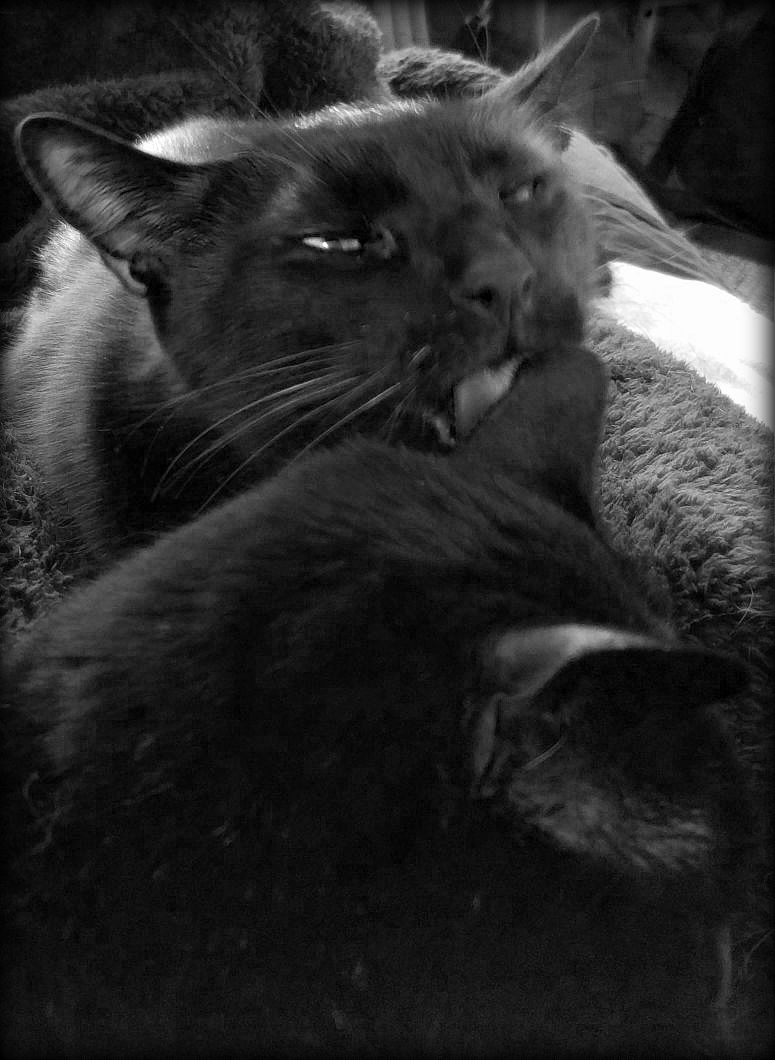 *SCHLURP* -Chaos
*purring* -Mayhem