Interested in winning a limited edition of Stephen King Goes To the Movies? Head over to Pat's Fantasy Hotlist for information on entering.
Knitting inspiration??! (I hope not. I'd hate to have stage an intervention.)
Today is the last day to sign up for E's vampire-themed music swap at swap-bot! You then have up to an entire month to make your mix.
*blink blink* I wonder what the city of Chicago thought when they received this pothole sponsorship idea from KFC?! I know I thought, "WTF?!" when I read about it.
Maybe it's time to take control of that out-of-control tangle of cords on the counter and make a charging station.
Hey, Jeanne, I think I have an idea for our next crazy non-knitting craft project! Wouldn't these make great gifts?
The toaster is 100 years old! Those first models sure look dangerous now, don't they? I'm a big fan of this humble appeliance, since I have peanut butter toast nearly every morning for breakfast. Sometime I'll have to pull my two vintage toasters out of the closet and take pictures of them. They're very handy for the gluten-free traveler who can't take advantage of a hotel's continental breakfast.
O noes! The Ashbys are departing. *sniff*
Black kitty camouflage at its finest, indeed.
Nifty kitty mobile – I wonder how it stands up to curious black kitties who would think it a cat toy?
As someone who can't handle the strong perfumes in most carpet deodorizers, I definitely see the appeal in making my own special kitty safe mix.
Psst – I certainly won't rat you out if you bookmark How to Fake a Clean House in a Pinch.
Trying to save money? Consumerist has a list of seven things that often aren't worth the expense.
If you're interested in getting a free online education, Lifehacker has a list of the top ten tools to do so.
Looking for great travel deals? Get Rich Slowly has a fine list of online resources.
---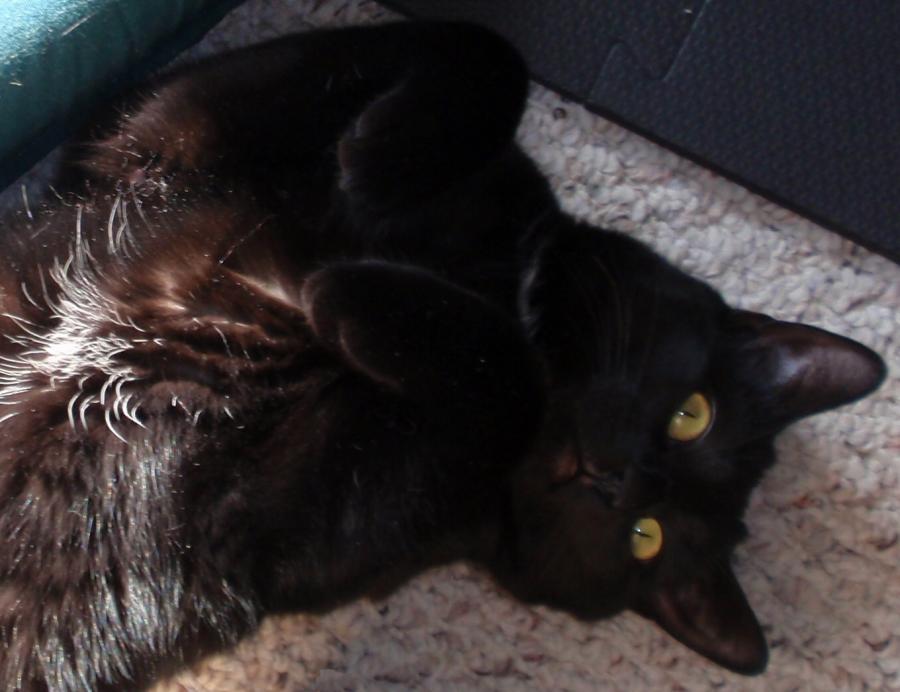 "Why, yes, I am a panther princess girl, the cutest there ever was!" -Mayhem
Hmm. Maybe the only there ever was? 😉