Limedragon is having not one, but two contests! The first is a Sock Hunt – guess which color of Opal in which pattern Limedragon will knit first and win a skein of Opal Petticoat. The second is a Dragon Hunt – from a selection of pictures, guess which picture contains the elusive Limedragon and win a skein of Habu Silk-Stainless Steel laceweight.
Becky is having a contest – guess what Mark Twain is reading in the picture and let her know what you're reading to win a bookish prize when she gets back from vacation.
Don't forget about the Think Pink Challenge, which is trying to collect 1000 knitted or crocheted pink scarves by October 15 to be distributed to women newly diagnosed with breast cancer.
I'm starting to fear I may never catch up on Bloglines… I've been getting things ready for my vacation, hoping that Chaos is recovered before next Saturday so that I can actually go. He's very lively and is eating Science Diet ID for cats with intestinal, um, issues. Hopefully that will have him on track in a few days… but he's also licking away the fur at the base of his tail, which is not good. I think we'll be back at the vet tonight…
Reading Update: Anybody Out There? by Marian Keyes. Keyes' books have focused on the five Walsh sisters, and now it's Anna's turn. Very well done chick lit!
Snow Blind by PJ Tracy. This is the fourth mystery about two homicide detectives in the Minneapolis Police Department and the eccentric software geniuses of Monkeewrench. The entire series has been excellent – highly recommended, but you should read these in order. (Monkeewrench was the first book.)
Lime Ricky by Jill Winters. Totally trashy romance with a hint of mystery, and I devoured every minute of it! *fans self*
You may or may not have noticed, but I'm terrible at being part of Saturday Sky – I forget or am too lazy. But I actually remembered this week… I just didn't manage to post it. Improvement? Or not? Anyway, this was taken Saturday at 4:30 pm from inside my car. The rain was heavy enough that the windshield looked clear.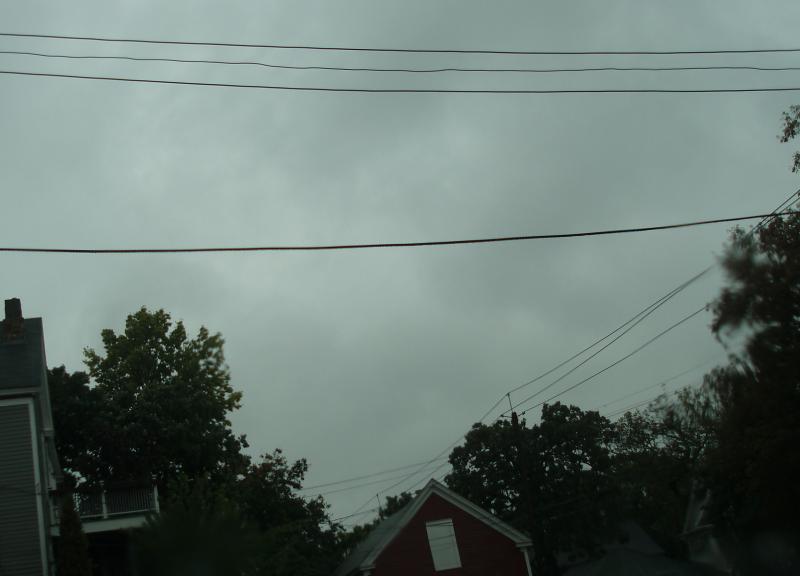 Remember a few weeks ago when Jeanne, Deb, and I dyed some more yarn? Well, I finally wound up one of my self-striping skeins, made by special request for a friend: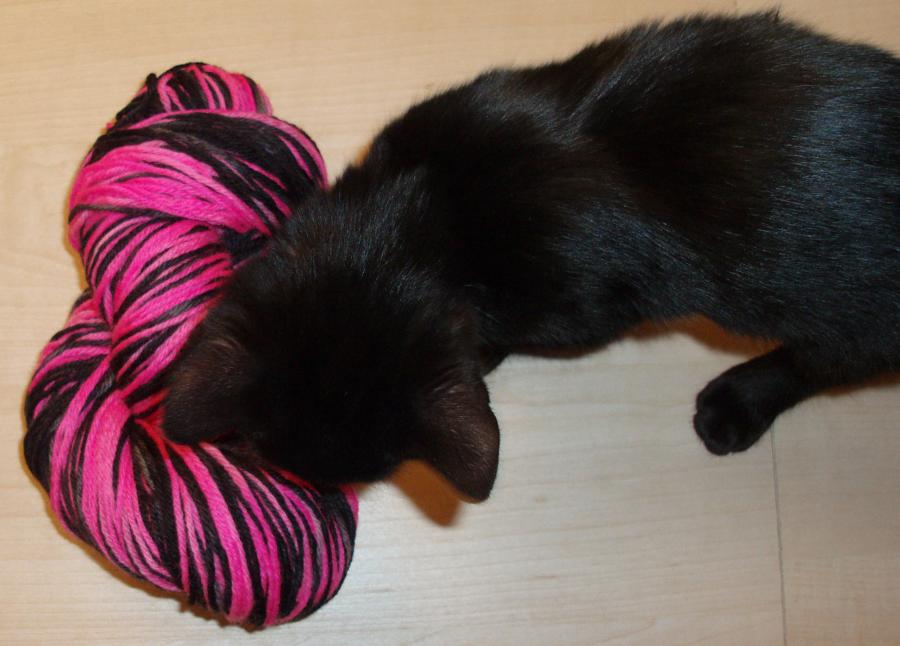 "I don't know why the big cat said I had to come up here to check out the yarn and report back to him. Hmph."
Speaking of Chaos and Mayhem, they seem to be getting along pretty well. Here Mayhem nurses from Chaos… Um, yeah, there are some challenges to this endeavor!!
"Maybe she isn't very bright… At least this way, she stays still so I can clean her properly!"