Kate is having an amusing contest: the Look Back and Cringe Contest. On your own blog, explain to her why you don't want 80s fashions to come back. Leave Kate a comment with a link to your post anytime through September 24th.
Kate, I don't need to tell you – I can show you. Just say no to big hair that took forever to achieve, high-waisted pleated jeans (Zena, anyone?), stirrup pants (fortunately, I was too tall to wear those successfully), knee-grazing tunics, shoulder pads (I already have a linebacker build, thank you!), and all that. Been there, done that, not going there again! 🙂
Thanks to everyone who's been sending me contest and swap information! Keep it coming – send an email to chris at this domain.
Knitting update: Yup, I still knit. But gosh, it's a bit challenging to knit with a kitten around – I'd forgotten about that! I'm about to bind off my first Regia Silk sock and I'm still plodding along on the border of my moderne log cabin baby blanket. Ummmm… Oh! Did I mention that I entered some socks in the Minnesota State Fair? Jeanne talked me into it and really, how could I refuse when she was willing to drop them off and pick them up from the Fair?! (Thank you, Jeanne!) I entered my Chaotic Black Lagoon socks (toe-up, using Maeve's Cherry Blossom Lace pattern and Sundara Black Lagoon yarn). I got full marks for general appearance, color, design, condition (even though I ran out of time to block), and materials used, but only 35.5/40 for workmanship. Here's what the judge had to say: "Beautiful Knitting – This was an extrememly competitive lot this year. Watch out for twisted stitches during grafting." Interesting, since these were toe-up, no grafting required – but obviously I need to switch to the Turkish cast-on, as mine is leaving a row of twisted stitches.
Tink and I are doing a mix cd exchange and Tink is way ahead of me (I'm still working on the mix). Along with the cds, she included some lovely little shells from Florida. Thanks, Tink! Chaos was intrigued by the shells.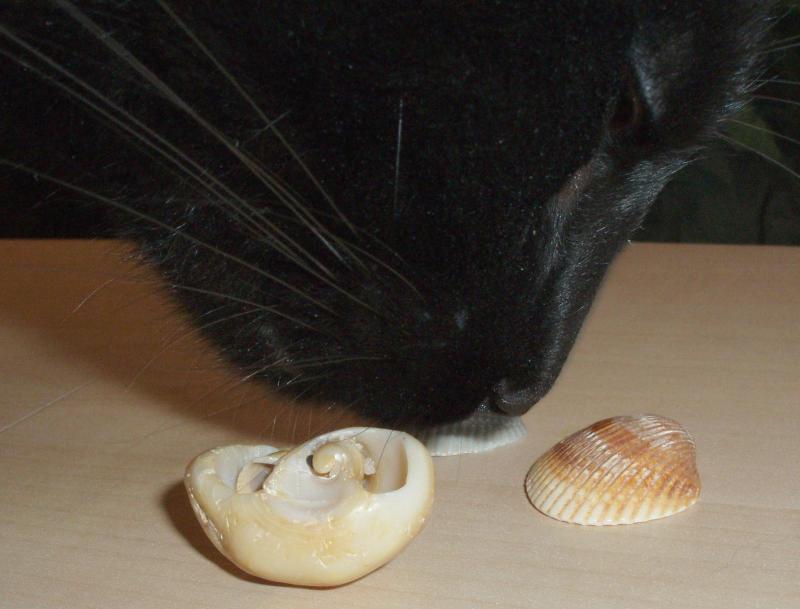 "Mmmm… oceany…"
Big thanks to everyone who's provided info and handholding during the cat acclimation process!! Here's another picture of May and the catnip mouse: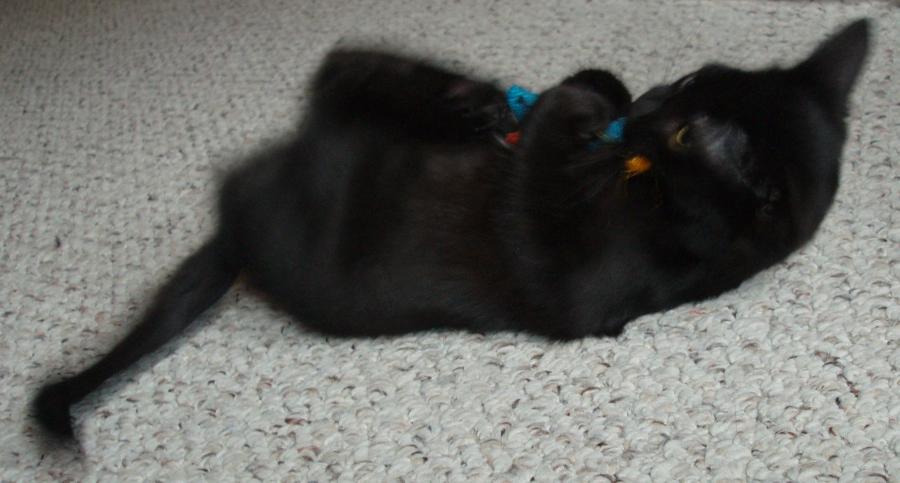 *kick kick kick kick kick bite bite bite bite bite*
But eventually… the mouse flew from her grasp.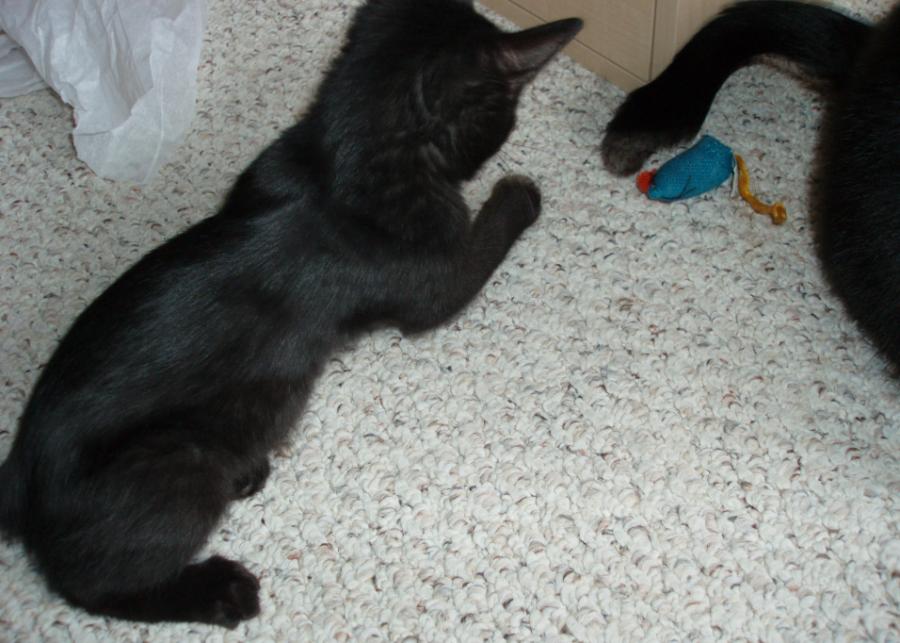 "Oh oh…"
And though she be but little, she is fierce. – William Shakespeare
"Take that, big kitty! I'm not afraid of you!!" – M
"Good grief!" – C