I had a busy (for me) weekend. I'll talk about Saturday tomorrow (maybe the yarn will be dry by then!). So on to Sunday, when I met lots of bloggers at the Twin Cities Knitters' Picnic. Tragically, in my efforts to contain my "cargo" to my tiny bicycle bag, I remembered my knitting but forgot my camera… Whoops. Um, so just imagine 25 or so knitters, sitting around on blankets under a tree in the Lake Harriet Rose Garden, knitting and eating and talking and laughing.
Here are the knitbloggers I met:
Kelle of Knits and Giggles
KnittyMama (I met KnittyBaby! And Little Man! And the Husband Who Has No Blog Nickname Yet!)
Christy of Purling Away, owner of the Minnesota Knitters webring (Christy took pictures!)
A new resident of Minnesota, Moraie Knitting (tragically welcomed by the evil hailstorm of last week)
Rina of Rahardjo Knits (Rina took pictures!)
Nancy of Clicking Sticks
Catherine of Yogurt and Granola
Melissa of HyveTyrant
Rebecca of Onspock
Tipper of Daily Fiber Therapy
Hopefully I didn't miss anybody!
SRP Update
Tool and Die (323 pages) and Nail Biter (260 pages) by Sarah Graves. The two most recent Home Repair Is Homicide mysteries – with a very startling development in Nail Biter! I sure didn't see that coming…
Jerry is having a contest to test her Random Knitting Theory #1. Deadline is Friday, September 1.
Here's my entry for the contest: I knit continental, sometimes combination and sometimes using Norwegian purling, depending on the situation. Oh yeah, and it's awfully hard to take pictures of your own hands!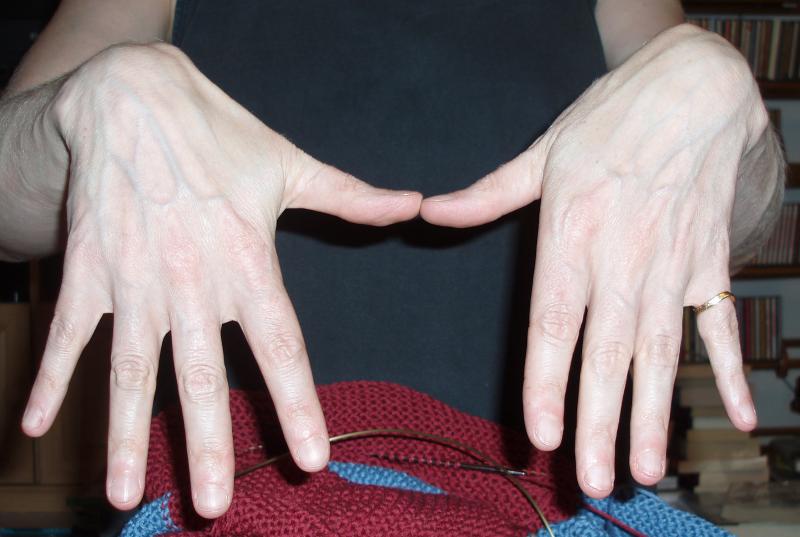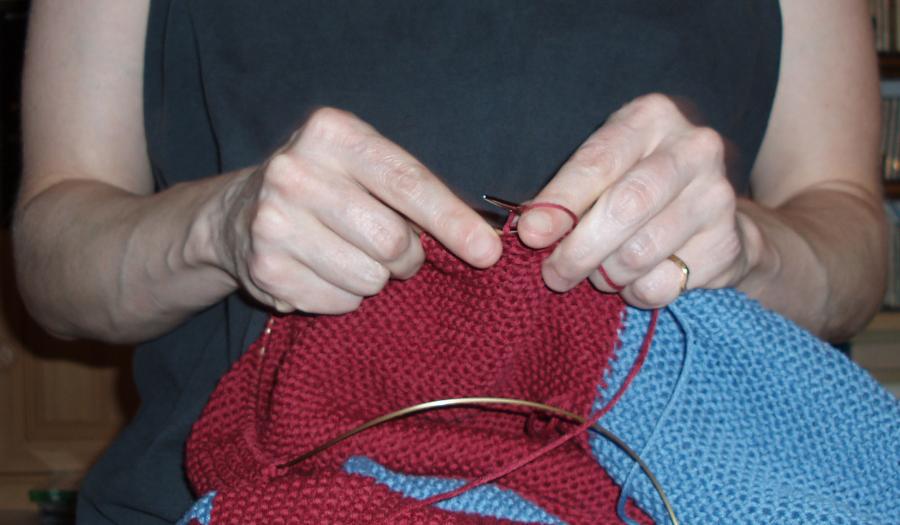 Chaos could not be reached for comment on today's blog post.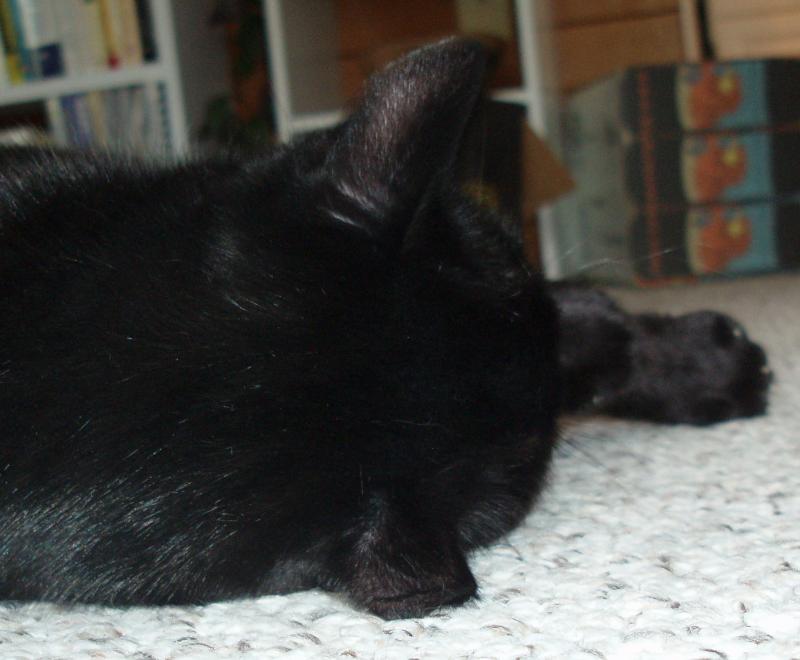 "….zzzzzzzzzzzzzzzzz…."