Ok, although I'm not officially a part of Eye Candy Friday, I thought this overgrown motorcycle in our alley was pretty cool. It reminds me of a Charles de Lint story, maybe something from the Borderland…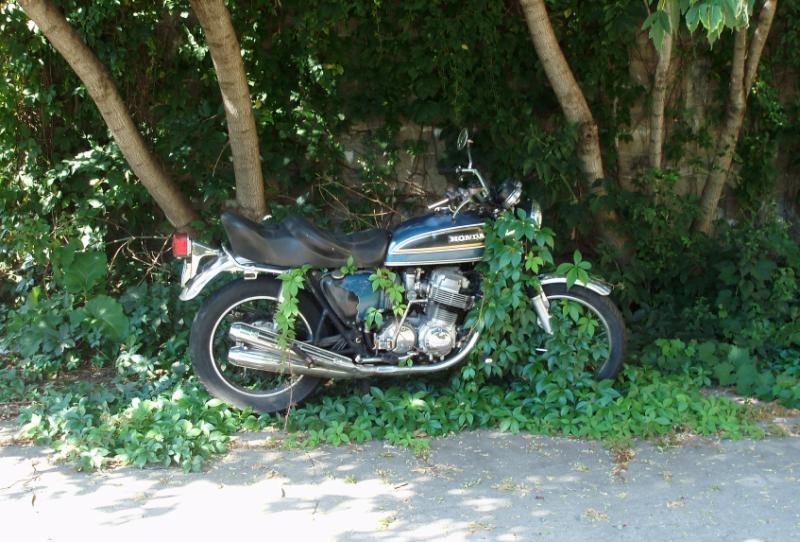 SRP Update
The Renewable Virgin by Barbara Paul, 215 pages. The first Marian Larch mystery (1984)! Bless the Minneapolis Public Library system for maintaining mystery series integrity. (Yes, Cute Library Guy was there, but I was too shy to talk to him… I know, I'm a dork.)
I'm liking the charcoal Regia Silk in the waffle pattern (two rounds of knit 2, purl 2 ribbing, then two plain rounds). Hopefully I make a lot of progress on it over the weekend so that it seems worth photographing. This probably won't come as a surprise to anyone, but my Cabernet Adamas shawl is still a ball of yarn and likely to remain that way for a while, so no more Amazing Lace for me. And I still need to knit some Bitchin' (baby) Mittens – yikes! Oh well, at least I finished the TrekAlong, right?!
In other personal knitting news, I had a pattern accepted by MagKnits for the December issue! All I'm going to say about it is that you can make the project from a single ball of Kureyon…
I still have a few more local purple architectural features to take pictures of, but to tide me over until I get around to it, Trek sent me this purple house from New Jersey. We should all forgive her for the slightly illegal action she took to get this photo, becase I love this house. Thanks, Trek!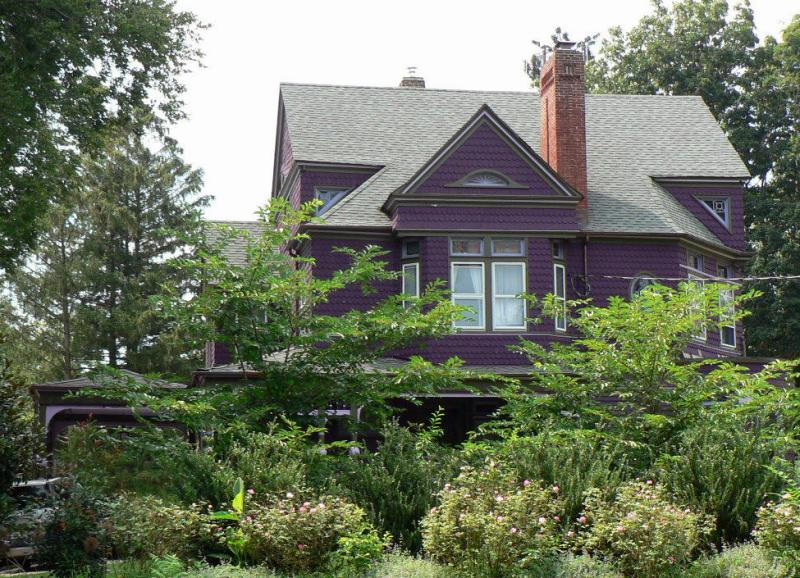 And how could we end the week without a little Chaos, looking ever-so-sweet after his shenanigans of a few days ago… Have a great weekend, everyone!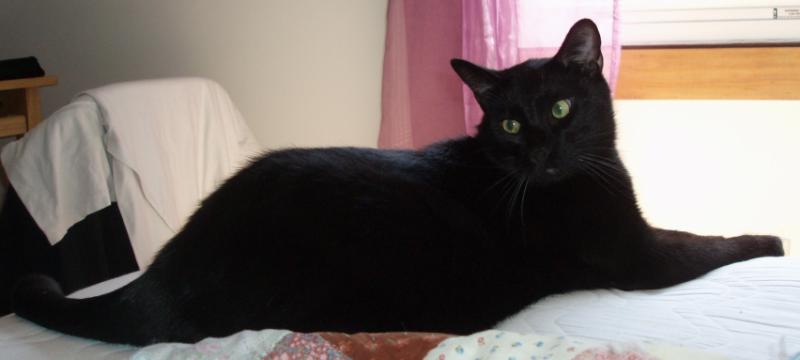 "Whatever do you mean, Mom? I am the very soul of sweetness and innocence!"