---
---
Congrats to Melanie, who won the Summer Lovin' m/m romance anthology by Clare London, Chrissy Munder, JL Merrow, Josephine Myles, & Lou Harper!
Congrats to Karen R, who won A Heart without Borders by Andrew Grey! A Heart without Borders is being released today by Dreamspinner Press.
Congrats to Avalie, who won Strong Enough (Family #2) by Cardeno C! Strong Enough is also being released today by Dreamspinner Press.
---
---
Randonymity
Minnesota allows citizens to carry guns around, which leads to all sorts of places having "[name] bans guns on these premises" signs. Few are as good as this (click to embiggen):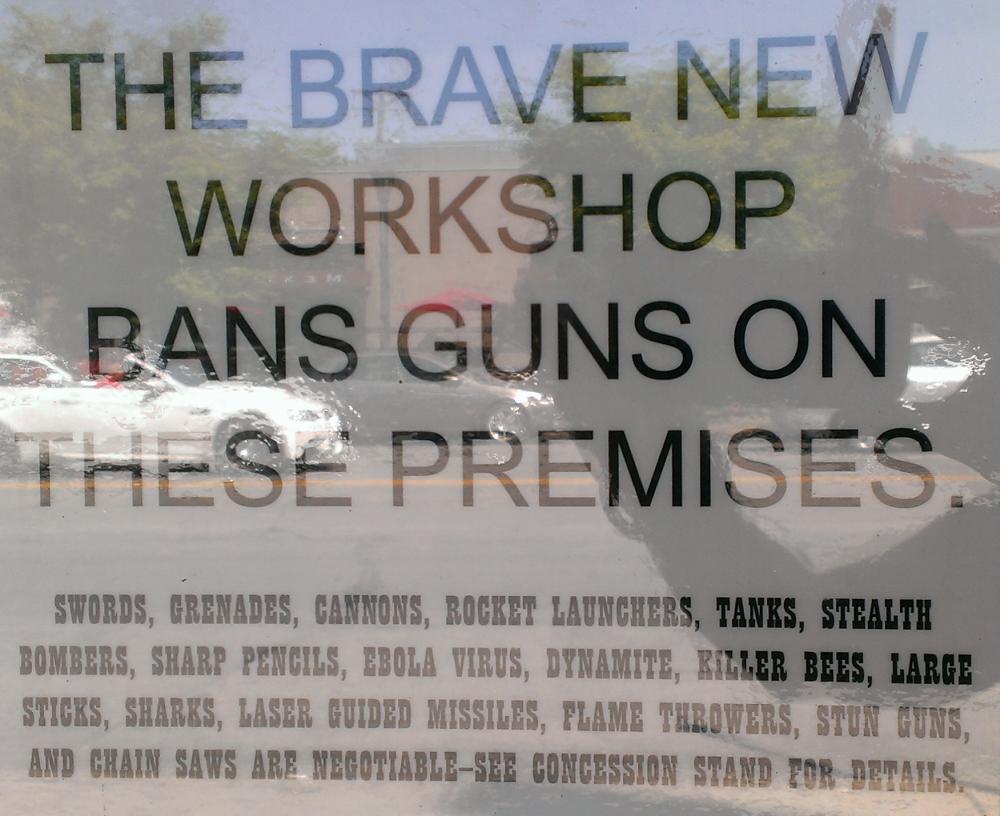 No Misadventures post on Monday because it's a holiday in the US! A much-needed holiday for me. 🙂
Contest(s)
Bookity
What's your bookshelf type? (Thanks, Experiment BL26!) I have a couple of IKEA BILLY bookcases and a couple of boring old bookcases that my dad made many, many, many years ago. I'm not sure what type that makes me. 🙂
Ebookity
Think, Do, Learn, Make
Cookity
Gluten Free
Cool
Cool or Wha…?
Wha…?
LOL
Teh Cute
Reading Update

New Complete Do-It-Yourself Manual by Reader's Digest. This book isn't very helpful for those of us who are completely unhandy and unfamiliar with the basics – I think caulking got a couple sentences at most. I've had far better luck getting the sort of detailed info I need from googling. (Apparently painters tape is the secret to professional looking caulking – I'm glad I found that tip, or I'd probably be sitting in my disastrously caulked tub in tears right now.)

A Fine and Private Place by Peter S Beagle. Ok story about a man who's lived in a graveyard in the Bronx for the past 20 years, keeping newly arrived ghosts company and eating food brought to him by a talking raven. It was also a story about the lies we tell ourselves and how hard it can be to face the truth. I felt it suffered from head hopping in the first half (probably due to some sort of omniscient narration, which I never do well with). At times it all seemed rather overwrought – but was that simply a product of being written in 1960? Anyway, since it took me over a month to get through, obviously I didn't find it a particularly compelling read.
---

"I like this rug a lot. Jeanne knit it for us! I suppose I shouldn't have hissed at her the other night because she touched my tail, huh?" -Mayhem