Many thanks to Nicole Forcine for donating an ebook copy of her forthcoming m/m romance, This Little Whatever, for a lucky commenter to win! This Little Whatever will be released by Dreamspinner Press on September 6.
Jonathan Mendoza used to live an even crazier life, partying with his tight-knit traveling performance troupe whenever he wasn't on stage belly dancing. When his sick mother begged him to change his lifestyle, he agreed to try to live sober, but that change is hard. Neither is it easy to stop staring at Dean Winters after he nearly knocks the man over before a performance.

A former recluse, prone to panic attacks after surviving a traumatic accident, Dean isn't Jonathan's usual type. Still, Jonathan is irresistibly attracted to him, and decides to cure the itch with a one-night stand. But that night, he's shaken by Dean's kindness and consideration – something he's not used to in a lover or a friend. His best friend, Rachel, who co-owns the troupe with Jonathan, sees Dean as a threat to their friendship and to the troupe – the dream they've worked together to build. She reveals a cruel and possessive streak that could do much greater damage on both fronts, and Jonathan realizes he will have to choose between the nomadic life he's lived and the man who is stealing his heart.
Also by Nicole
About Nicole
Nicole Forcine was born a strange child and former Georgia peach. When she was younger, she was never far from a composition book, a pen in hand, and way too many people in her head (she's even been known to talk back to them). When two or more of them talk loud enough to overshadow the rest, a story is born. After years of writing and storing her tales in those books, she had a revelation: man, there are a lot of dudes kissing in these stories.

Her stories include themes of creating families of choice, how love can come in all forms and supersede all boundaries, and the joys and sorrows of earning a happily-ever-after.

Currently, she resides in Minneapolis with one of the most laid-back men in history and his even more laid-back cat. When she's not writing (ha!), she's saving the world/galaxy/humanity as we know it in the world of video games and general geekiness and opening other people's mail for a living. You can find out more about Nicole and her writing at her website, Twitter, and Goodreads.
Contest Rules
To enter, leave a comment stating that you are entering the contest. Contest closes 7 pm CDT, Thursday, September 5.
By entering the contest, you're confirming that you are at least 18 years old.
If you haven't commented before, your comment will not be visible until after I moderate it. Please do not leave a second comment because your first doesn't show up! The blog gnomes will decide your comments are spam and then only ritual dust bunny sacrifice will salvage your entry…
If your comment is actually an advertisement or if your CommentLuv link turns it into an advertisement, your comment will be deleted. (Most of you do not need to worry – this refers to some pretty clever comment spam.)
Winners will be selected by random number.
You must leave a valid email address in the "Email" portion of the comment form.
Please make sure that your spam filter allows email from stumblingoverchaos.com!
If a winner doesn't respond to my congratulations email within 48 hours, I will select another winner.
If you win, please respect the author's intellectual property and don't make copies of the ebook for anyone else.
This contest is open worldwide!
---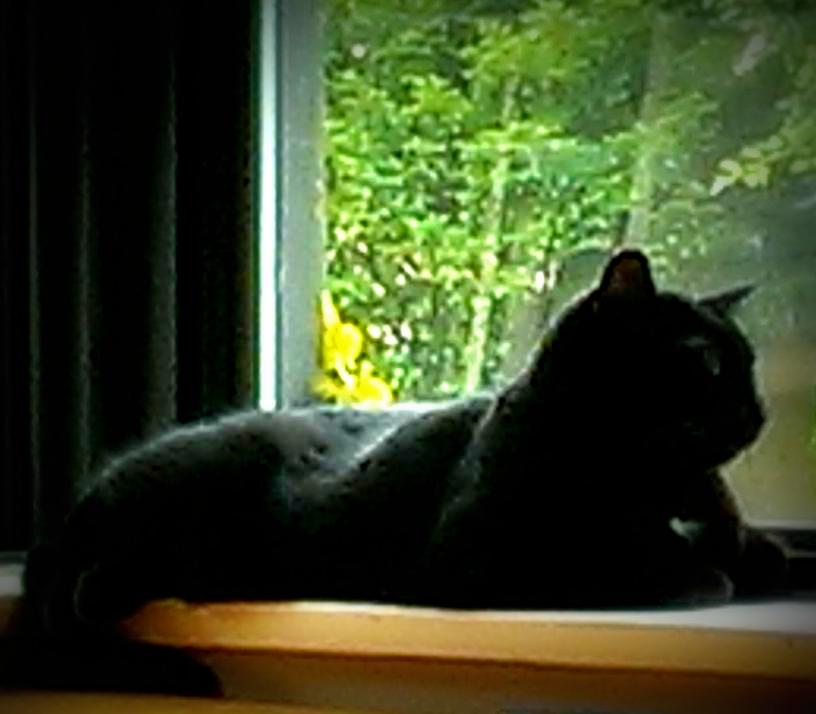 "I wish Mom would open the windows again…" -Mayhem
(Not going to until the heatwave is over!)