Many thanks to Lou Harper for donating an ebook copy of her forthcoming paranormal m/m romance, Dead Man and the Restless Spirits, for a lucky commenter to win! Dead Man and the Restless Spirits will be released on June 25 by Harper Books.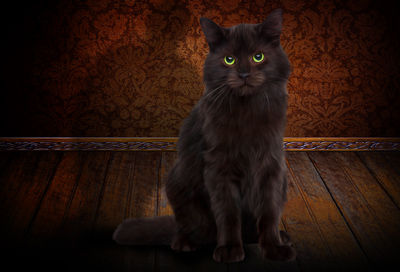 Hi there. I'm Murmur, guest cat for the day. You can call me Murry, but only if you feed me tuna first. That's basic etiquette when interacting with felines.

I'm here because if you want something done right, you have to do it yourself. Humans have their uses, and we cats are good at making them do our bidding, but they tend to be clumsy. Just try to make them do something more complex than cleaning out the litter box or filling your bowl with food, and they'll mess it up.

Take Bran, for example. He thinks he's the boss, but in truth I'm his guardian. It's my job to keep him out of major trouble and help him when he needs it, even if he doesn't think he does. Humans not only lack the grace and agility that's natural to us, but they can be incredibly pig-headed. Once they set their mind on something, no matter how misguided, no argument will convince them otherwise. It's the job of cool cats, like yours truly, to fix the situation using our subtle skills of manipulation.

You see, a youthful mishap made Bran swear off relationships for good. Even when the skinny guy moved in next door and started hitting on Bran, the dimwit pretended not to notice. And Denton was his type too  – we cats have a sixth sense for these things. Alas, no amount of nagging or occult intervention could change the status quo. It was time for feline subterfuge.

Sometimes the best plans are the simplest. I need the two of them to meet face-to-face, to get into each other's private space, to talk, and to touch. I knew if I managed that there would be a spark. So I made a leap from our balcony to Denton's fire escape. The rest is history.

But I ramble. I came to recommend you Dead Man and the Restless Spirits. It does a decent job at recounting the events, even if I can't help thinking it would've been better told from the point of view of the cat. Humans – what can you expect?

PS. I'm not portly! It's all fur.
Dying sucks hairy monkey balls, even when you're not the stiff.

Denton Mills has a secret: he can see dead people. Or rather, how they died. It's quite a drag in a city like Chicago, teeming with the echoes of the no-longer living. Rather than whine about it, Denton has learned to live with his troublesome talent. His adaptability comes in handy when he meets his enigmatic new neighbor.

Bran Maurell catches Denton's eye right away, but unfortunately Mr. Tall, Dark, and Mysterious is as standoffish as he is alluring. However, after an unexpected introduction from Bran's cat brings the two men together, Denton discovers they have a mutual interest in the spirit world. Herbalist by day, Bran moonlights as a witch, performing house cleansings for a fee.

From Bran, Denton learns that his knack for interacting with the dead qualifies him as a necromancer. It makes good business sense for them to team up and rid Chicago of its pesky spirits one grateful client at a time. Amongst ghostly adventures the attraction between the men is impossible to ignore. They seem like perfect partners – unless Bran's not-so-little secret comes between them.

Warning: Men loving men, ghosts with attitudes, and a portly feline with hidden talents.
Note: Denton also plays a small but important role in Spirit Sanguine.
Other Books
About Lou
Under a prickly, cynical surface Lou Harper is an incorrigible romantic. Her love affair with the written word started at a tender age. There was never a time when stories weren't romping around in her head. She is currently embroiled in a ruinous romance with adjectives. In her free time Lou stalks deviant words and feral narratives.

Lou's favorite animal is the hedgehog. She likes nature, books, movies, photography, and good food. She has a temper and mood swings.

Lou has misspent most of her life in parts of Europe and the US, but is now firmly settled in Los Angeles and worships the sun. However, she thinks the ocean smells funny. Lou is a loner, a misfit, and a happy drunk. You can find out more about Lou and her books at her website, her blog, and Goodreads.
Contest Rules
To enter, leave a comment stating that you are entering the contest. Contest closes 7 pm CDT,Monday, June 24.
By entering the contest, you're confirming that you are at least 18 years old.
If you haven't commented before, your comment will not be visible until after I moderate it. Please do not leave a second comment because your first doesn't show up! The blog gnomes will decide your comments are spam and then only ritual dust bunny sacrifice will salvage your entry…
If your comment is actually an advertisement or if your CommentLuv link turns it into an advertisement, your comment will be deleted. (Most of you do not need to worry – this refers to some pretty clever comment spam.)
Winners will be selected by random number.
You must leave a valid email address in the "Email" portion of the comment form.
Please make sure that your spam filter allows email from stumblingoverchaos.com!
If a winner doesn't respond to my congratulations email within 48 hours, I will select another winner.
If you win, please respect the author's intellectual property and don't make copies of the ebook for anyone else.
This contest is open worldwide!
---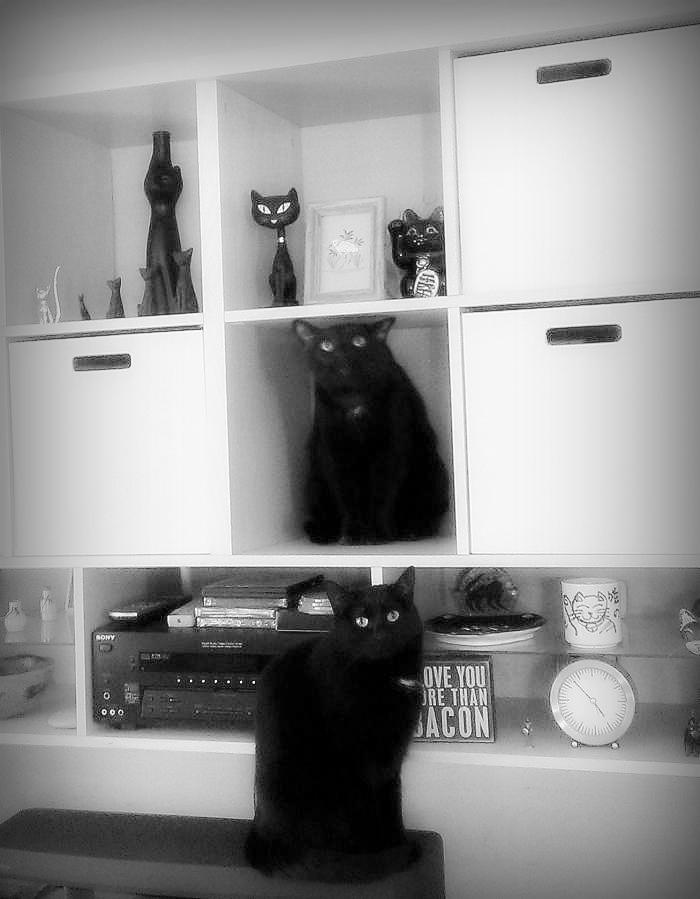 "Why is there another black kitty up there in this post?!" -Chaos
*judging* -Mayhem