A few miscellaneous things…
To humor me, Kat took a picture of her dog Java wearing a bib. Talk about a hangdog expression! Thanks, Kat! Sorry, Java – does it help to know that you look awfully cute in that bib?
MeanGirl Jen is having a contest – you have until Friday to leave her a comment with the posted and forecasted high temps where you live. The winner will be selected by random number and receive a skein of Mama-E's sock yarn! Susan's going to have a contest starting on Friday (she's being very mysterious), so drop by tomorrow and see what she has in store for us.
Send me an email if you're having a contest (chris at my domain) and I'll let people know – I love contests! (And I'm so far behind in bloglines that your contest will probably be over before I find out about it otherwise.) In fact, I'm thinking about what to do for my next contest…
Another SRP book completed – Micah by Laurell K. Hamilton, 245 pages. The latest but one in the Anita Blake, Vampire Hunter series. I enjoy this series, but it is not for everyone. It is sexually graphic and often violent. If that isn't a problem, Laurell K. Hamilton always writes an intense, page-turning read that you won't soon forget. The series should definitely be read in order (Guilty Pleasures is the first book in the series). This book reveals a bit of wereleopard Micah's past as he travels with Anita to Philadelphia for a zombie raising.
Chaos has been a nervous wreck since Tuesday. While I was at work, the guys who are doing the window installation in my building used a hydraulic lift to reach my third floor windows, ripped out the rotting wooden trim around the windows, put in new trim, and wrapped it with aluminum. In addition to the noisy hydraulic life and strangers looking in the windows (not so common in our third floor condo), they were using a nail gun to secure the wood and trim. All new experiences for Chaos, who tends to be jumpy anyway, and all very loud.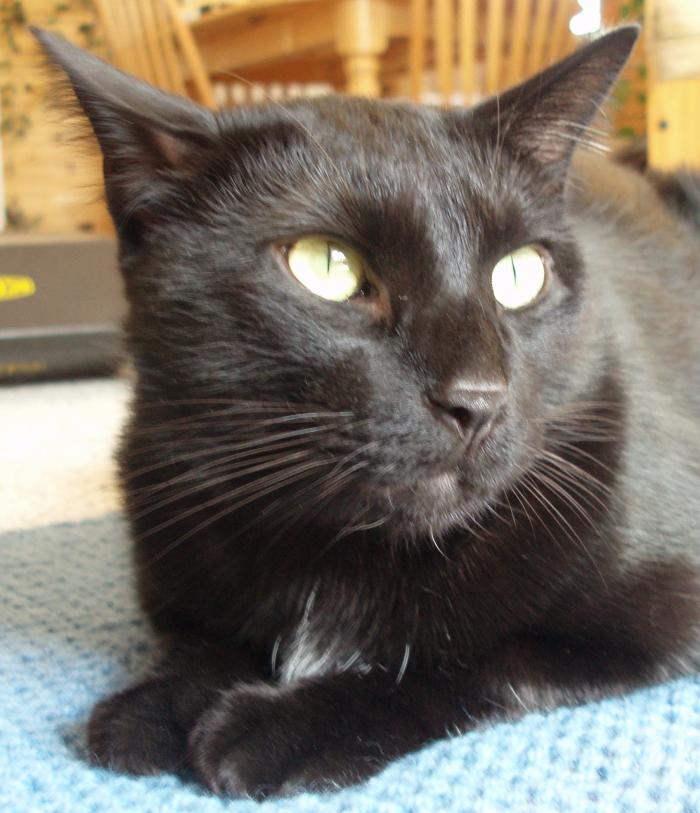 "It was terrible. Terrible, I tell you! I'm sure that I will have nightmares for years,
and probably will require lots of tuna to soothe my jangling nerves."
I work at home most Wednesdays, so Chaos did get some tuna yesterday, along with lots of petting, brushing, and soothing talk… Until the big thunderstorm, although he's never been afraid of thunder before. And then the guys came back on their lift to use the nail gun to finish one of my window ledges! And then a jet flew very, very low above us!! Argh. Back to seeing my noisy, saucy, bossy kitty with his tail down and puffed out, quivering and cowering behind the toilet. I'm back in the office today, so when they start that lift and begin driving it around, I'm not going to be there to calm my poor kitty. Hopefully the guys will finish the windows soon and things will be quiet and calm and sunny again for the dusty Cat Chaotic…