As I mentioned a few days ago, I started working on a pair of felted mittens for my sister-in-law. Many of you are knitters, so you know the excitement I was feeling as I finished those last few rounds on the final thumb. Elation that I was done (particularly with the thumbs – Jeanne and Ana can tell you how much I hate mitten thumbs. I know it's completely irrational to hate mitten thumbs more than, say, sock heels, but there it is). Satisfaction. Relief that I had so much time before Christmas to felt the mittens and see if my sister-in-law would be getting mittens or the alternate present.
Imagine my dismay when I put the mittens on the table to photograph my triumph, only to notice…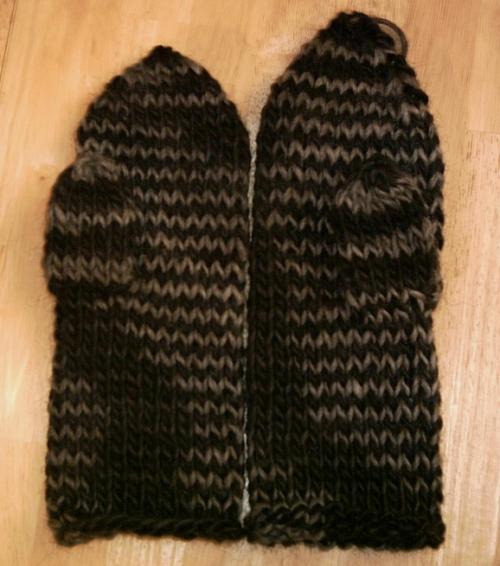 Yup. Those mittens sure aren't a matching pair. Now, I'm fine with the spiral being different. And I'm completely ok with the thumbs being striped opposite of each other. But what I can't quite ignore (even when I squinted at them) is that one of the mittens is definitely longer than the other. Or, depending on your perspective – one is shorter. The result is the same. I must rip the longer mitten back and start the final decreases two rounds sooner. I even used a row counter so the mittens would be identical, but…
When I looked at them a bit more, I decided that the shorter (first) mitten also was knit more tightly than the second mitten. What the…? How did that happen? It couldn't have anything to do with having two soy mochas while I knit the first mitten, but two glasses of wine while I knit the second… could it? Although I suppose that does explain my, um, difficulty with the row counter on the longer mitten and probably also why the spiral changed.
Well, poop. So much for my great triumph.
Chaos listened intently to my troubles… But I think he was just humoring me so he could go back to his bath.
"You did what?"
"Tsk, tsk, tsk."
"So, I guess you'll be coming back to the chair to make a lap and fix that problem, eh?"