D'oh! I can't believe how far behind I've gotten on thank yous! Bad Chris. No biscuit.
Elspeth sent me cat'n'music'n'yarn goodness. Thank you, E! Look at all the adorable kitty swag from the Japanese store near E – isn't that fan the best?! It's obscuring a stack of mix cds, because E and I share a deep passion for making mixes. And May is obscuring some nifty plum and black sock yarn.
"Why do you need all this cat stuff when you have me and the big kitty, Mom?" -Mayhem
Shush, May. Silly question! 😉 Jane sent me a very cool coffee towel, one of her gorgeous photo calendars for 2009, and a cute project bag she sewed (um, you have to sort of imagine the bag, since Chaos is obscuring it). Thank you, Jane!
"Hmph. All I like to do with coffee is stick my paw into it when you're not looking, Mom." -Chaos
Um, too much information there, Chaos. Ewww! The Paos sent Jeanne and I some lovely Christmas goodies. (They may or may not be regretting that as they work on the 1000-piece jigsaw puzzle we sent them). I received some fun stripey yarn, a purple notebook (made from recycled retail packaging), a Zip-It bag, and some of my beloved dark chocolate-covered rice cakes (tragically only available in the UK) (you have to imagine what they look like, because I've already eaten them). There's also a book for Jeanne and I to share, which May is kindly obscuring (Notes on a Scandal). Thanks, Paos!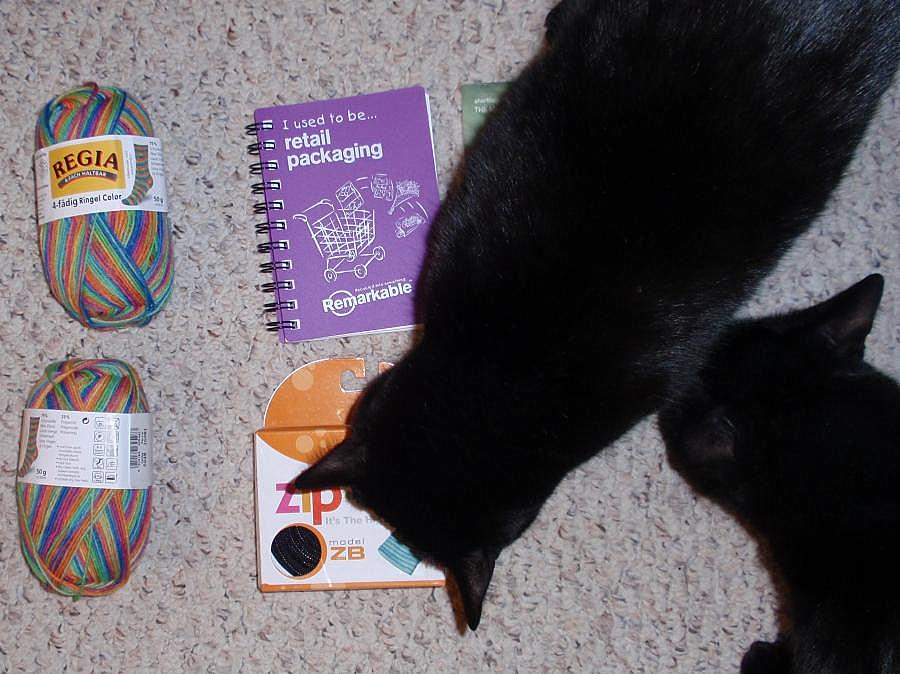 "This looks like it would be a fun toy." -Mayhem
"Maaaaaaaaaaay. You're obscuring my view! I can't see the stuff!" -Chaos
I sent Susie that pair of Keen MaryJanes that just weren't working for me, and she sent me a box of STR, black kitty book plates, Hello Kitty gum, Emily the Strange lip balm (Chaos is obscuring that), and hot pink feathery goodness for the kitties. Thanks, Susie!
"I wonder if I would like kitty gum?" -Chaos
"Hot. Pink. Feathers. Duuuuuuuuuude." -Mayhem
May was so excited about the hot pink feathers that she stole the toy before I could even remove it from the packaging! Then she cried the entire time when I snatched it back and removed it from the packaging.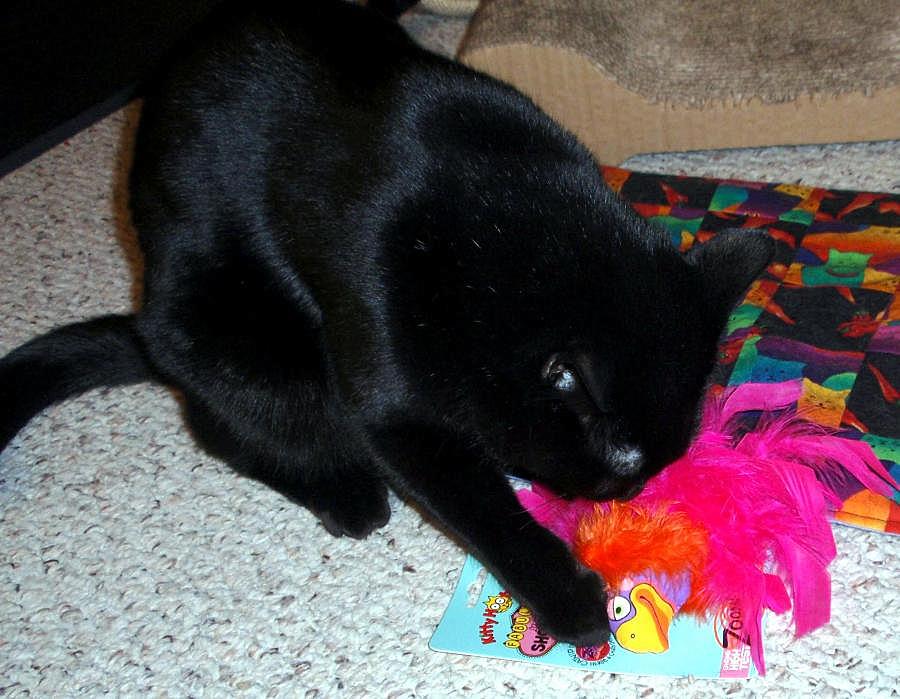 *hot pink feather fizzzzzzzzzzzzzzzzzzzzzzzzzzzzzzzzzzzzzz* -May's brain