---
---
Congrats to Carole, who won A Ring and a Promise by Devon Rhodes! A Ring and a Promise was released yesterday by Total-E-Bound.
Congrats to Penumbra, who won A Private Gentleman by Heidi Cullinan! A Private Gentleman is being released today by Samhain Publishing.
---
---
Many thanks to JL Merrow for donating an ebook copy of her forthcoming paranormal m/m romance, Midnight in Berlin, for a lucky commenter to win! Midnight in Berlin will be released by Samhain Publishing on February 21.
The hookup from hell…or the ride of his life?

Leon's drifter lifestyle gives him the freedom to attend as many music festivals as his heart desires. Even the ones that leave him covered in feathers. Wet feathers, thanks to the rain as he hitchhikes back to his hostel. When he's offered a ride by a good-looking man in a Porsche, Leon thinks it's his lucky night. Until he discovers his savior from the storm hides a dark secret: he's a werewolf.

At first glance, Christoph thinks the shaggy stranger walking Berlin's streets is a rogue werewolf. By the time he realizes his mistake, it's too late for both of them. Forced to turn Leon into a monster to save his life, Christoph still has to suffer his pack leader's brutal punishment for endangering them all.

Leon awakens, horrified by what he's become – but it's his lover's fate that spurs him to action. Freeing Christoph is easy, but the aftermath complicates everything as they go on the run, desperate to uncover the secrets their pack leader is hiding. Secrets the pack will kill to protect…

Product Warnings
Take a trip to Europe. Soak up the local culture, meet a creature from your worst nightmares. Contains werewolves behaving badly, clothed and unclothed. Author is not responsible for unexpected, uncontrollable urges to consume massive amounts of, um, bacon.
Excerpt (scroll down and select tab)
JL's post about Midnight in Berlin and Camwolf
Other Books
About JL
JL Merrow is that rare beast: an English person who refuses to drink tea.  Having grown up by the seaside, she also loathes fish and chips.  She read Natural Sciences at Cambridge, where she learned many things, chief amongst which was that she never wanted to see the inside of a lab ever again.  Her one regret is that she never mastered the ability of punting one-handed whilst holding a glass of champagne. She writes across genres, with a preference for contemporaries and the paranormal, and is frequently accused of humour. You can find out more about JL at her website, blog, Facebook, Goodreads, and Amazon.
Contest Rules
To enter, leave a comment stating that you are entering the contest. Contest closes 7 pm CST, Monday, February 20.
By entering the contest, you're confirming that you are at least 18 years old.
If you haven't commented before, your comment will not be visible until after I moderate it. Please do not leave a second comment because your first doesn't show up! The blog gnomes will decide your comments are spam and then only ritual dust bunny sacrifice will salvage your entry…
If your comment is actually an advertisement or if your CommentLuv link turns it into an advertisement, your comment will be deleted. (Most of you do not need to worry – this refers to some pretty clever comment spam.)
Winners will be selected by random number.
You must leave a valid email address in the "Email" portion of the comment form.
Please make sure that your spam filter allows email from stumblingoverchaos.com!
If you have an email account with AOL or Netscape, I will not be able to send email to you.
If a winner doesn't respond to my congratulations email within 48 hours, I will select another winner.
If you win, please respect the author's intellectual property and don't make copies of the ebook for anyone else.
This contest is open worldwide!
---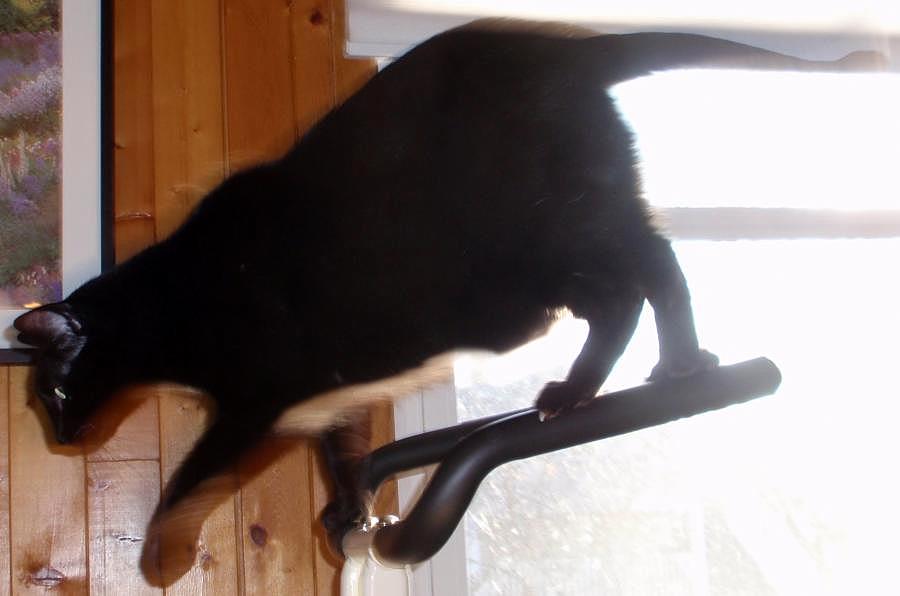 "Oh, yeah, I can make that jump, no problem." -Chaos
Of course, what he didn't anticipate is that the force of his jump would tip the exercise bike toward the handlebars, leading to him falling over the seat and behind the bike. Fortunately, only his pride was hurt!