---
---
Stop by and enter the contest for Across the East River Bridge by Kate McMurray! Contest closes 7 pm CDT, October 10.
---
Congrats to Helena, who won Life Over Limb (EMS Heat #11) by Stephani Hecht! Life Over Limb will be released by eXtasy Books on October 1.
---
---
Contests
Bookity
Ebookity
Think, Do, Make, Learn
Cookity
Crafty
Cool
Cool or Wha…?
Wha…?
LOL
Teh Cute
Reading Update

Woke Up in a Strange Place by Eric Arvin. ebook. Very good fantasy m/m story about a man who wakes up in the afterlife, with no memory of his prior life, and, with the help of a cryptic guide, begins a journey to recover his memories and make his peace with the significant people from his life.

Blood Howl by Robin Saxon & Alex Kidwell. ebook. Very good paranormal m/m romance about a guy, formerly Special Forces, who now offers those skills for hire. When a job goes in an unexpected direction, he has no idea how much his world is about to change… If a few more questions had been answered by the end of the book, this could have been a five-star read. Maybe there will be a sequel?

Ex Equals by LA Witt. ebook. Very good m/m romance about a guy, formerly in the Navy, who has just started teaching math at a community college and discovers that his ex (still in the Navy) is in his evening class.

In Remembrance of Us by AJ Rose. ebook. Very good m/m romance about a guy suffering from amnesia after a mugging. He's missing the last two years of his life… including he and his best friend becoming much, much closer. I got sniffly while reading this one. (Be aware that there's cheating, which I realize is an automatic no for some readers.)

Boystown 3: Two Nick Nowak Novellas by Marshall Thornton. ebook. Two very good historical m/m mysteries about Chicago PI Nick Nowak. It's 1982, and no one really understands why gay men are getting sick… 🙁

Bulletproof (A Matter of Time #3/#5) by Mary Calmes. ebook. Enjoyable roller coaster of a read that picks up three years after A Matter of Time. Sam's been away from home in deep cover for months. Jory's working a job he hates and trying to extricate himself from the complicated interpersonal situations he tangles himself into.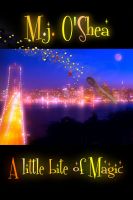 A Little Bite of Magic (Magic #1) by MJ O'Shea. ebook. Sweet paranormal m/m romance about a witch/chef who leaves his pretentious family behind in New Orleans to open a restaurant in San Francisco.

Happy Trails by Carol Lynne. ebook short. Good short m/m romance about a college student out hiking with his cop brother and his brother's hot work partner. This read like a snippet from a longer book rather than a complete story, which I found frustrating.
---

"I am sooooooooooooo bored." -Mayhem