---
---
Congrats to Lora G, who won Smart Ass: Close Quarters from LB Gregg!
Congrats to Marie, who won the Uniform Appeal anthology, courtesy of Dreamspinner Press! Uniform Appeal will be released on April 11.
---
---
Contests
Bookity
Ebookity
Do, Think, Make, Learn
Cookity
Crafty
Cool
Wha…?
Randonymity
LOL
Teh Cute
Reading Update

Taste (Horizons #2) by Mickie B. Ashing. ebook. Very good m/m romance about a San Francisco architect visiting friends (Jody and Clark from Horizons) when he meets a cute tattooed guy working at Taste of Chicago.

Mandarin Orange: Sweet and Sour by T.C. Blue. ebook. Good m/m romance about a guy who eventually realizes he might not be as straight as he'd always believed after he meets the guy who will be living in the apartment downstairs.

Three Alarm Fire (EMS Heat #8) by Stephani Hecht. ebook. Sweet m/m romance about an EMT who was in an abusive relationship a few years ago and since then has been afraid to let anyone that close to him.

Wrong Number, Right Guy (Celebrity #1) by Mia Watts. ebook. Cute m/m romance about a guy who misdials and doesn't realize that he's talking to a closeted movie star in town for a film shoot.

Getting Off the Ground (Postcards from Paradise #1) by L.A. Witt. ebook. Good m/m romance about a guy who was left at the altar by his live-in boyfriend of six years. He decides to use one of the honeymoon tickets to go to Hawaii by himself and meets a very intriguing man in the airport when their flight is delayed. Please note that this is just the first part of the story – the second part will be released in a few weeks.

Anything in a Skirt (Gay Until Graduation #2) by Kim Dare. ebook short. free. Very good short kinky m/m romance following up on the two guys from Gay Until Graduation (G-A-Y #3). (I took that photograph at Twin Cities Pride 2010!)

Handcuffs & Ball Gags (Rawlings Men #6) by Kim Dare. ebook short. Good kinky short m/m romance about a police constable who gets upset when his flatmate attends a potentially dangerous environmental rally, which leads to a most interesting discussion…

Cut & Run (Book 1) by Madeleine Urban & Abigail Roux. ebook. reread. Good m/m romantic suspense about two wildly different FBI agents who are tossed together to try to catch a serial killer. I think this would've been a better read if it had been tightened up – parts of it seemed to drag.

Sticks & Stones (Cut & Run #2) by Madeleine Urban & Abigail Roux. ebook. Very good m/m romantic suspense two FBI agents who can't go back out in the field until they pass their psych evals, so their boss sends them on vacation to relax for a few weeks… Usually Urban & Roux's headhopping doesn't particularly bother me, but it did a few times in this book.

Fish & Chips (Cut & Run #3) by Madeleine Urban & Abigail Roux. ebook. Excellent m/m romantic suspense in which our two FBI agents are sent on a cruise to impersonate a high rolling couple. As usual, nothing much goes as planned.
---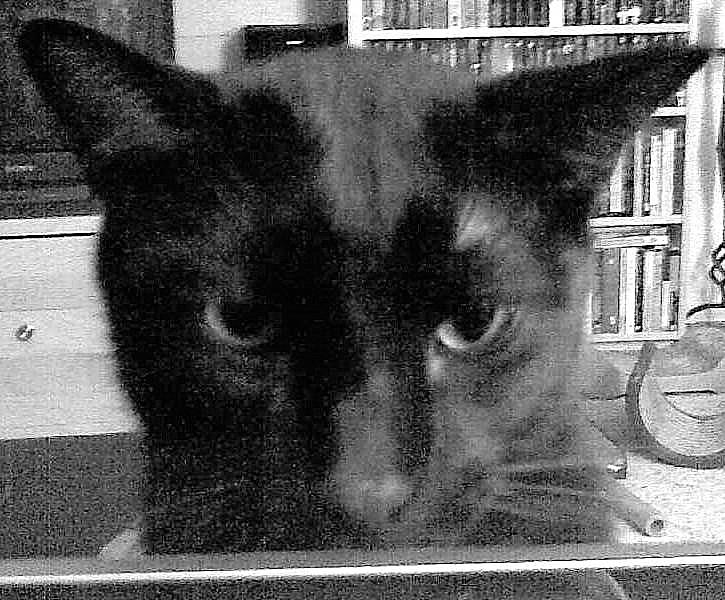 "Put the computer down and feed me now and no one gets hurt… much." -Chaos