Congrats to Sidney, who won Chasing Alex by Em Woods and A Special Christmas by J.P. Bowie! Both books will be released by Total-E-Bound on December 13 as part of the Yule Be Mine collection.
Congrats to Monica, who won Trusted Bond (Change of Heart, Book 2) by Mary Calmes! Trusted Bond is now available from Dreamspinner Press.
Congrats to Mellanie, who won Red Lights and Silver Bells (EMS Heat, Book 6) by Stephani Hecht!
---
Here's hoping I catch up on Google Reader and commenting soonishly…
---
Contests
Bookity
Ebookity
Do, Learn, Think, Make
Gift Ideas
Holiday
Cool
Eeek!
Huh
LOL
Teh Cute
Reading Update

Rescue Me by Scarlet Blackwell. ebook. Excellent m/m romance about a rich, angry, nasty homophobic guy who nearly dies in a car crash. When he's eventually able to go home, he needs home nursing care and finds himself uncomfortably attracted to his male nurse. I'll warn you that I suspect some people are probably going to hate this as much as I loved it – there's a lot of angst, a lot of being stuck and not making any progress, a lot of lashing out at others because of how he feels about himself. And it all manages to feel more real to me than a lot of GFY tends to.

Foxe Tail (Skyler Fox Mysteries, Book 1) by Haley Walsh. ebook. Good m/m mystery about a young high school English teacher who stumbles across a dead body in the alley outside of a club. Be aware that this is first book in a trilogy and lots of things are left open at the end.

War Games by Kim Dare. free ebook short. Good kinky free short m/m romance about a geek with a crush on the forceful security guard at work. When they're out doing a war games team building exercise, things get interesting.

Mistletoe & Submission by Kim Dare. ebook. Very good kinky holiday m/m romance about a guy who joined a bdsm club as a dom, but finds that his feelings for his extremely dominant friend confuse the issue for him. But since his friend seems to think so poorly of all submissives, it's a moot point, right?

Eight Nights by Keira Andrews. ebook. Very good holiday m/m romance about a college student who ends up spending Hanukkah with his annoying dorm mate's family after said dorm mate's mother realized he didn't have anywhere else to go for the holidays. How is it that his dorm mate's brother isn't annoying at all?

Daybreak (Eight Nights, Book 2) by Keira Andrews. ebook. Very good holiday m/m romance about the college student and the dorm mate's brother, starting seven or eight months after the first book. A lot more angst in this one – I even got a little sniffly.

All I Want for Christmas by Linda Reilly. ebook short. Ok short parnormal m/m holiday romance about a med student, in denial about being gay, who's visiting friends in New York City for the holidays. The paranormal aspect of the story took my completely by surprise, but I guess it makes the insta-love more acceptable…

Ice Around the Edges by Mary Calmes. ebook short. Good short holiday m/m romance about a guy who's in the hospital recuperating from being shot and is very surprised when the ex who dumped him out of the blue ten years ago shows up at his bedside.

Better with Sprinkles by Chrissy Munder. ebook short. Advent Calendar. Good short m/m holiday romance about a biochemistry major in study panic whose roommate finagles him into baking 20 dozen cookies for a charity event. Includes family sugar cookie recipe at the end! 🙂

Mariah the Christmas Moose by Andrew Grey. ebook short. Cute short m/m holiday story about a teacher, newly arrived in Alaska, who calls the police about a monster (er, moose) in his back yard and meets a very interesting police officer as a result.

All Snug by B.G. Thomas. ebook short. Good short m/m holiday romance about two guys who both show up at an antique store, trying to buy the same bed for their boyfriends. They come up with a multipart contest to see who should be able to buy the bed. It was, unfortunately, completely predictable.

GI Joe Holiday by Amberly Smith. ebook. Good m/m holiday romance about a guy in Navy SEAL training who gets picked to pose for a statue that will be displayed on a military base. Because of DADT, he can't let on that he's gay, but he finds himself very attracted to the sculptor. This had a strange, sort of paranormal twist to it that really took me by surprise.

The Hanukkah Surprise by Rebecca Lynne Fullan. ebook short. Good short m/m holiday romance about a couple, one of whom hates Hanukkah and the other of whom hates surprises, heading off on a Hanukkah surprise.

By the Chimney with Dare by Leigh Ellwood. ebook short. Ok short m/m holiday romance about a limousine driver who chauffeurs a very sexy Santa to a party…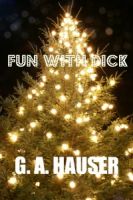 Fun with Dick by G.A. Hauser. free ebook short. Meh short m/m holiday story about an established couple getting busy with the assistance of whipped cream, hot fudge, and more.
---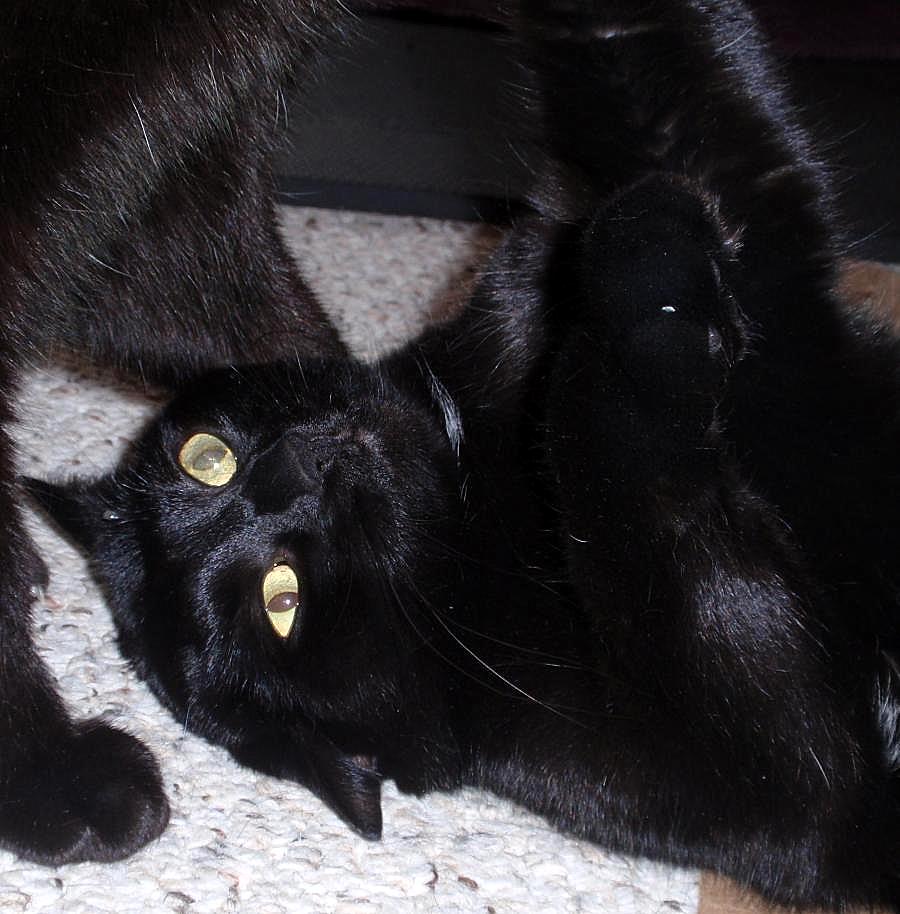 "I will never surrender, big kitty!!" -Mayhem