Susan's giving away a copy of Casual Elegant Knits – if you'd like to win, leave a comment with a question for the authors. Plus, Susan's birthday was yesterday, so you should wish her a happy birthday if you stop by!
If you like to read fantasy or urban fantasy, check out these cool book giveaways.
Head on over and vote in the 2008 Knitter's Hunk contest!
Can anyone recommend a good ftp program that works in XP SP3? I had been using SmartFTP, but suddenly they want $40 for it. I'd pay $10 or so, but not $40. I'm using FireFTP, but it doesn't remember the last connected directory when you reconnect. I tried FileZilla, but can't remember why I uninstalled it – probably because, like CoreFTP Lite, it doesn't have a nice right click to copy the file path. I just tried WinSCP and I think it will work! Thanks for the recommendations!
---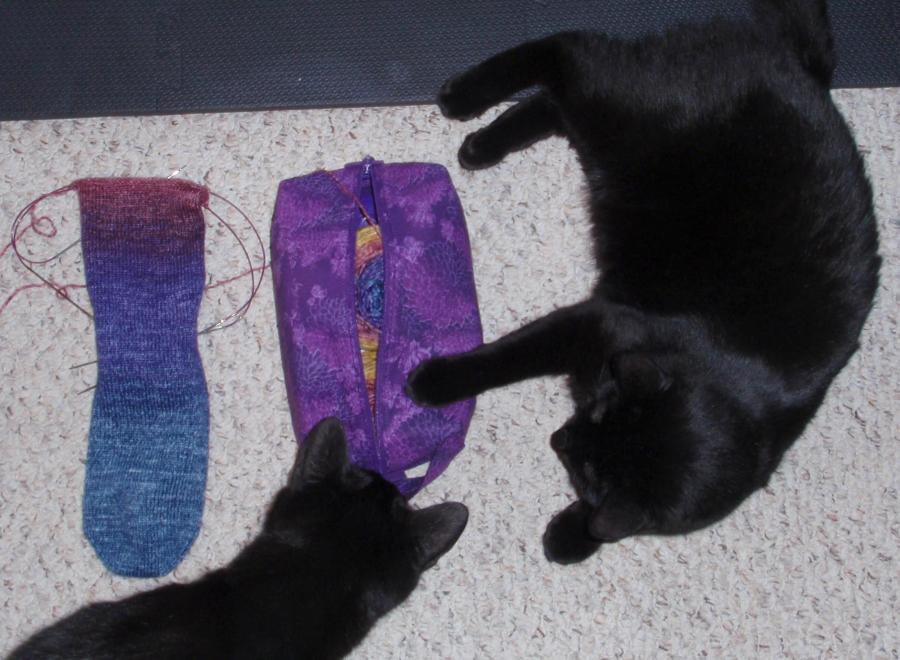 "Where is dangly thing??!!! Dangly thing! Dangly thing!" -Chaos
"Get a grip, big kitty! It's at the other end of the bag, on the zipper. Have you no shame?" -Mayhem
Since I know there are those amongst you who actually like to see unobstructed pictures of the knitting… 😉 I mostly like how my graduated dyeing experiment is coming out. However, if I do this again, I won't make the color sections so long (i.e., I'll have more colors) and I'll increase the overlapping/graduated sections. While I only have four colors, Jeanne has six colors, so it could be perfect! (No pressure, Jeanne…)